Airport bosses warn of further job losses after 'green list' update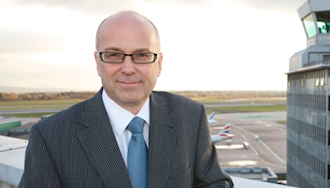 Airport bosses have warned of tens of thousands of jobs being placed at risk following the government's update to its traffic light foreign travel system.
The warning came as the government announced tighter rules on foreign travel.
No more countries will be added to the green list of countries where travel is allowed – with Portugal moving to amber from next Tuesday.
Critics warned of a loss of jobs and confidence, while Easyjet said the government had torn up its own rules.
Charlie Cornish, CEO of MAG, which owns East Midlands Airport alongside Manchester and Stansted airports, said: "We were told the traffic light system would allow people to travel safely, with the right measures in place to manage risk for different countries.
"But it is now clear the Government doesn't trust its own system and that international travel is being unfairly scapegoated, with tens of thousands of jobs placed at risk in the process.
"Low-risk destinations continue to be left off the green list despite clear evidence they are safe to visit. With case rates lower than the UK, we simply cannot understand why the likes of the Balearics, the Canaries and some Greek islands do not fall into that category.
"If we followed the approach being taken across Europe, lots of other countries – like the United States, Germany and Italy – would also be classed as green.
"Instead, we're stuck with a system that is clearly not fit for purpose and will deny people the opportunity to travel abroad safely this year.
"The lack of transparency is shocking and totally unacceptable."
He added: "If the Government has information that supports its decisions, then it needs to publish it. We have repeatedly asked for this data, but we are being left in the dark about how it is making these choices, with no opportunity for scrutiny or challenge."
Johan Lundgren, Easyjet's chief executive, said: "When this framework was put together, consumers were promised a waiting list to allow them to plan.
"Yet the government has torn up its own rule book and ignored the science, throwing people's plans into chaos, with virtually no notice or alternative options for travel from the UK.
"This decision essentially cuts the UK off from the rest of the world," he said.
The aviation sector has been one of the hardest hit since the start of the pandemic and has seen the companies tapping up investors for funds and borrowing heavily through Government-backed schemes.