People: Paragon Law; Octavian IT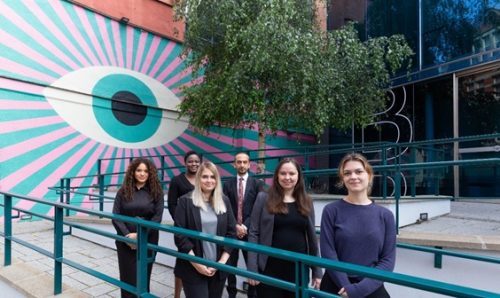 X

Register for free to receive latest news stories direct to your inbox
Register
Nottingham immigration law firm Paragon Law has welcomed six new recruits across the business.
Solicitor, Shehzad Babar returns to Paragon Law after spending two years working with firms in London. He said: "I had previously worked with Paragon Law for 12 years but wanted the London experience. When the opportunity came to re-join the firm and because of the IT infrastructure that Paragon Law has invested in allowing me to be based in London, it was an offer too good to miss." With the firm increasingly gaining instructions from new clients nationwide, Shehzad will be focusing on growing the firm's corporate and private immigration law services from their Jermyn Street offices in London."
Meanwhile, Cambridge University graduate, Julia Crellin joins the firm's Human Rights and Asylum team together with Fatima Mboge who was previously a legal caseworker with the Sheffield charity Asiana and has vast experience of representing women affected by domestic abuse, forced marriage, FGM and human trafficking.
Master's law degree graduate, Libby Birt, having worked for two years as a private client lawyer joins Paragon Law as a HR & operations executive and Whitney Phippard joins as a legal administrator.
Emma Robinson is recruited in the newly created marketing department following the completion of her MSc this year in Digital Marketing and through the Nottingham Trent University's Innovation Through Productivity project.
Founder and director Thal Vasishta said: "I am delighted with the firm's progress. We continue to demonstrate that we are at the forefront of diversity and inclusion both in terms of the make-up of our team and the clients we represent. However, the growth that we have achieved could not have taken place without the support of our clients and external partners."
Octavian IT, the Cyber Essentials-accredited IT division of the multi-service provider Octavian Group, is expanding its US operations with a key new hire.
The firm, which has its global headquarters in Nottinghamshire, has strengthened its Phoenix, AZ offices with the addition of Tim Keller as its new engineer.
Keller has just completed his latest IT professional qualification, CompTIA A+.
Ben Solomon, managing director of Octavian IT, said: "Tim has hit the ground running with us and after a few days has already been making site visits, installing hardware and resolving client issues. We're extremely lucky to have him as we continue our US growth journey."
The expansion comes on the back of Octavian IT securing a prestigious new contract with a group of US-based health companies.
Octavian IT will provide IT management services for the Colton Health Group, which comprises five businesses based at various locations across the US specialising in multi-disciplinary medical services across various states. Octavian will manage Colton's IT from its Arizona offices, bringing the fast-growing Group's systems up to date and ensuring they are protected against disasters.
As part of the deal, Octavian will implement disaster recovery processes, provide hardware and software, improve Colton Health Group's cyber security and migrate the company's email and data storage solutions to the Microsoft cloud.