Architects group has designs on creating 20 jobs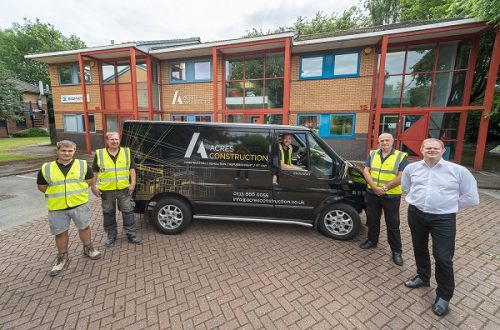 A Nottingham-based architecture group says it wants to create 20 jobs this year, after targeting £10m in turnover..
Edward Acres, who founded Acres Architects from a laptop in his parents' spare bedroom in 2008, said his team of three people at the start of the pandemic has expanded to 20 full-time staff – and the Acres Group is looking to almost double that number this year.
Acres puts his success down to offering diversified services and formally set up a growing list of non-architectural companies within his group, which is based at Nottingham Science Park.
Now, the group boasts various additional divisions, including Acres Investments, Acres Developments, Online Media Video Productions (OMVP) and Acres Construction.
Established only 18 months ago, Acres Construction began with a pipeline of works to support Acres Architects, which was struggling with its existing crop of contractors, which largely specialised in residential projects. Acres Construction has now secured larger scale business and commercial contracts such as property developer residential projects like apartment schemes and luxury private gated developments, as well as dilapidation works, SEN schools and interior fit-out works. It is currently working towards a sales pipeline of £25m in 2022.
Acres said: "These new facets of the business have created this amazing company growth. Our clients love the one-stop-shop, where we add levels of accountability and security that other practices can't offer. All processes are effectively delivered under one roof.
"This linear process and, most importantly, our ability to provide clients with straightforward communication throughout all aspects of a build, has generated huge interest and popularity.
"As a result, our client base has sky-rocketed – and we are planning for even greater expansion of our services and projects in 2022."
He added: "I stopped thinking like an architect, and started thinking more like a businessman. More and more investors are coming forward for support, and this full, turnkey solution provides them with a combined set of assets and a holistic overview that they value highly, and which architects alone do not offer."
Acres Architects alone is seeing a big increase in enquiries for residential developments, particularly countryside barn conversions – citing 13 separate barn conversion projects on the go currently.
"We are still gaining momentum," said Acres. "While 2021 was an incredible year for us, our sights are firmly set on adding more commercial projects, targeting more property developers across the UK, adding more turnover and building a bigger team in 2022. We're thinking big and we're going places."