Life sciences firm set to double turnover after move to 5,500 sq ft HQ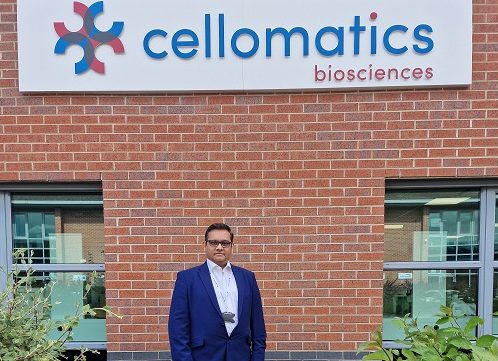 Contract research organisation (CRO) Cellomatics Biosciences has moved into new purpose-built premises in Nottingham in the wake of rising demand for its bespoke preclinical and early drug discovery phase laboratory services.
The company's new 5,500 sq ft facilities in Colwick, Nottingham represent a three-fold increase in the company's footprint, allowing room for further expansion. The ground floor is dedicated to laboratory facilities, whilst the first floor provides scientific write-up space, offices and meeting rooms.
Employing 15 people, Cellomatics was founded in 2015 and specialises in the development of bespoke bioassays across numerous therapeutic areas including oncology, immuno-oncology, immunology, inflammation and respiratory.
The company has doubled its revenue over the last three years, and is on-track to record further growth. Cellomatics' CEO and founder, Dr Shailendra Singh, said: "Drug development is a truly global market and the number of biotechs, pharma companies and academic groups working on the translation of ideas into medicines continues to increase, and as does the funding available to support such projects.
"Nottingham sits at the heart of the UK's thriving preclinical CRO sector in the East Midlands and affords access to talent and expertise from both the local universities and the scientific industry. Our new state-of-the-art facilities provide a collaborative working environment for our valued workforce, and will enable us to accelerate our plans for further recruitment and to attract the very best scientists to Cellomatics."
Stuart Gibson, finance director at Cellomatics, added: "Cellomatics is well-positioned to double top-line organic revenue over the next two years through expansion into new markets, focusing on new therapeutic areas, developing or acquiring new technologies, and building new service offerings. We also plan to partner with strategic investors to further accelerate our growth. As a company, we are committed to developing additional capabilities to enhance the depth of our services within our current specialist sectors, and to expand into other growing sectors."
Singh added: "Going forward, we will continue to invest in our technical expertise to meet the global demand, and to accelerate the rate of our export business. Indeed, to fulfil our ambitions of delivering exponential growth in revenue and shareholder value across the next few years, we will continue to invest in our scientific capabilities, technologies, and services to support us in delivering and adding value to more client projects."
Cellomatics Biosciences was recently awarded the Queen's Award for Enterprise for International Trade.