Digital firm hires well-known Derby entrepreneur as FD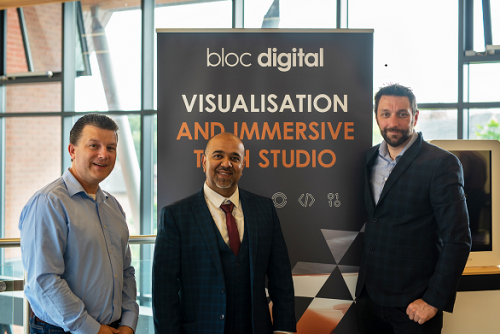 Derby-based digital technology firm Bloc Digital has hired Mo Suleman as finance director.
Suleman joins the 45-plus strong team after nine years as director of resources at the culture and heritage charitable trust, Derby Museums. He has also held positions as CFO at hospitality group, First Inn Group and manager at professional services firm, PwC.
Bloc Digital works with clients across a number of sectors, supporting business, industry, academia and tourism through its six specialist studios – Creative, Media, Technology, Engineering, Arch Viz and Learning.
Co-Founder at Bloc Digital, Keith Cox said: "It's great to welcome Mo at a truly exciting time for Bloc. Growth across sectors has been our pathway for a number of years, culminating in the addition of new skill sets and our dedicated studios. Now, we're delighted to have Mo's wealth of experience, Derby connections and strategic vision on board as we shape the next chapter of our plans."
A well-known member of the local business community and a former winner of the East Midlands – Derbyshire Chamber of Commerce 'Entrepreneur of the Year' Award, Suleman also has a creative background as both a radio broadcaster and public speaker.
He said: "I am really excited to join such an amazing company like Bloc Digital. They are a fantastic, award-winning company with so many facets to their business. They epitomise what Derby is about: innovation, ambition, and doing great things in the community. Bloc Digital are on an exciting journey themselves and I hope that, with my expertise and previous experiences, I can help them achieve their strategic and financial aims."