Why Pubity Group is one of the most exciting English brands you haven't heard of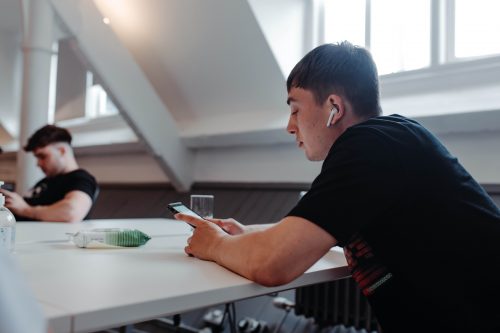 In a back street two minutes from Piccadilly Gardens, in Manchester, England, is an office containing the biggest North West brand you've never heard of.
Pubity Group – yes, it's pronounced how you think – is the social media company that is the creation of two 22-year-old entrepreneurs, Kit Chilvers and Iyrah Williams.
In the last 12 months, the group generated 100 billion impressions from content that is mostly curated and co-ordinated by their Manchester team.
June's most-liked content on Instagram included a wild bear high-fiving a driver (2.5m likes), a baby elephant making itself dizzy (2.4m), and a cute kitten video (2.0m).
But the month's best-performing was the verdict from the Depp-Heard libel case (2.6m), while an update about a trial of a drug being tested to treat colorectal cancer (2.0m) wasn't far behind.
This is how Gen Z, and their successors Gen Alpha, consume news.
This isn't the future, the change is already in the past tense.
Chilvers said: "We are a news hub for the everyday person, rather than people that are going out of their way to research what the latest news is. They can follow something, follow our page, and they get the latest news. They're not expecting anything to come in the news every day, but when it does, they engage with it."
This engagement of likes and shares is inherently positive, which subverts another traditional media adage. Bad news no longer sells.
Williams added: "Younger generations try to actively avoid negative news. They only want to see positive stuff, funny stuff, wholesome things; after it gets a bit creepy. I think we're a bit fed up of it in some ways – people dying, wars, Covid."
But while serious and negative is a turn-off for the social media audience, serious and positive can go as viral as the cutest of cutesy kitten clips.
The colorectal cancer update was about the clinical trial of dostarlimab, a drug that acts as substitute antibodies and resulted in all 18 participants being in remission one year after the drug trial. It generated 16,500 comments.
Yes, there's the banal (a football fan quipped "Dr luis diaz? never knew he was also a doctor", and got 10,000 likes), and there's the conspiracy theorists (more than 20,000 people liked the comment "Next thing you know they're all mysteriously dead and this is all covered up.").
But there's also the heartfelt: "Damn never thought we'd ever be able to cure cancer. Big W tho 🙌" and the political: "Next step: make it affordable for poor people😤". That was the most liked comment, with 34,000 approving.
It is possible that more people read about the GlaxoSmithKline-backed study by New York doctors because of Pubity Group than because of the coverage in the New York Times.
Pubity's brands have 95m followers around the world (of which its LinkedIn page contributes just 363 – Instagram and TikTok are where their big audiences live). Half of its followers are in America, 20% in the UK and 10% in India, while Canada, Germany and Australia are also notable markets among its genuinely-global base.
It would be wrong to assume Pubity is just broadcasting to millions of social media teenage sponges, they are also influencing the influencers.
To give one example, legendary NFL quarterback Tom Brady has 12.4m followers on Instagram and follows only 511 accounts. One of those 511 is Pubity.
In the company's own words: "We're part of a pop subculture defined by social comment, humour, music, fashion, travel, and sport. We've built a social world beyond labels and classifications – we don't hire networks; we are the network."
Williams has a clear ambition for Pubity: "We're just starting out, we want to be the biggest media publisher on the internet."
Chilvers' target is only slightly more modest. "We want to be a billion-pound company," he said, matter-of-factly.
"Everyone's attention is on social media. I feel like us being at the forefront, then building up our B2B side, we can achieve that."
Pubity already works with global brands including Gymshark, the UK sportswear unicorn built through social media influencers, dating company Hinge, drinks giants Pepsi and Tango, as well as direct with the social media platforms Instagram and Meta.
Williams said: "The brands that we work with the most are the ones that want to have something that looks organic on our pages because our audience will understand it, resonate more with it, and then want to buy from that brand."
Chilvers added: "I don't think a lot of the old-age brands really understand the power of social media and what it can do. I think it's something that the younger brands are really taking advantage of, which is actually being able to create a trend overnight.
"They are using the influencers and brands such as ourselves that have that audience that can consume content, and consume these adverts naturally and organically."
Consistently achieving reach, engagement and impact can ultimately prove to be a lucrative combination.
In 2020, Warner Music Group paid $110m for IMGM Media, a company built on Instagram memes and viral videos. Its most famous brand, Daquan, which was created by an anonymous Canadian teenager, was reported to have been responsible for $85m of the deal price.
But the Gen Z entrepreneurs don't need to look over the Atlantic for inspiration. At 16 the school friends decided to leave their education behind and, thanks to the success of Chilvers' Instagram page Footballnewz, joined Manchester's first social media superstar LADbible.
It was the summer that LADbible co-founder Solly Solomou, then 25, was named EY's Entrepreneur of the Year for the North – an indicator of the seriousness with which social media businesses were starting to be treated.
The duo spent two years with LADbible before leaving to set up Pubity. Then in 2020 they joined up with Solomou once more, agreeing a partnership that included investment, business support and office space.
LADbible itself floated on the stock market last year, as LBG Media. Its market valuation is in the same ballpark as Reach, the publisher with a big portfolio of traditional UK media brands including the Daily Mirror, Manchester Evening News and Liverpool Echo.
LADbible's success provides a possible roadmap for Chilvers and Williams, who want to overtake their landlord on the way to global domination.
But this revolution won't be televised.