Council approves plans to transform iconic Nottingham building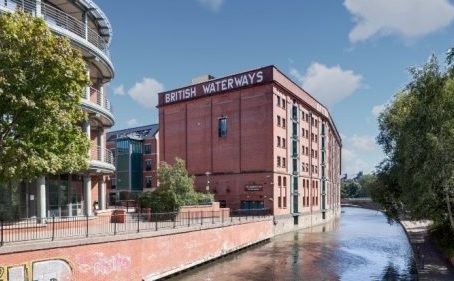 Plans to redevelop a landmark canalside building into flats have been given the go-ahead by Nottingham City Council.
H2O Urban – a joint venture between the Canal & River Trust and bloc group – has been granted permission to convert the iconic British Waterways Building near Nottingham Railway Station into a 95-unit residential development.
The scheme will include 12 studios, 42 one-bedroom apartments and 41 two-bedroom apartments, with 8 of the latter being situated on a new rooftop extension.
The development, designed by Franklin Ellis, will include new lifts, staircases, secondary glazing, a reception and a communal lounge.
It has been described as a "sensitive conversion."
The Grade II listed British Waterways Building sits adjacent to the Nottingham-Beeston Canal in the Castle Wharf area of the city centre. It was originally built in 1919 for the storage and loading of goods and materials onto canal barges and was most recently occupied by leisure and hospitality operators including JD Wetherspoon and Glee Club.
A statement accompanying the planning application submitted by H2O Urban reads: "The building is currently partially occupied by a comedy club (Glee). However, the lease for the space is coming to an end and will not be renewed by the occupiers. The other areas of lower floors were formally occupied by a pub (The Company Inn, Wetherspoons) and the upper floors by a gymnasium but are all currently empty. There has been little commercial interest in the space."
Richard Thomas, development director at bloc group and project lead, said: "The British Waterways Building is a much-loved feature of Nottingham's canal side area. It has played a key role in city life in the past and we want to see it do so again."
He added: "H2O Urban's plans would see the building fully utilised for the first time in many decades. This will help to preserve the building by giving it a long-term future while also adding a sense of safety and vibrancy to the canal side area."