People: Infuse; Enrok; Blueprint Interiors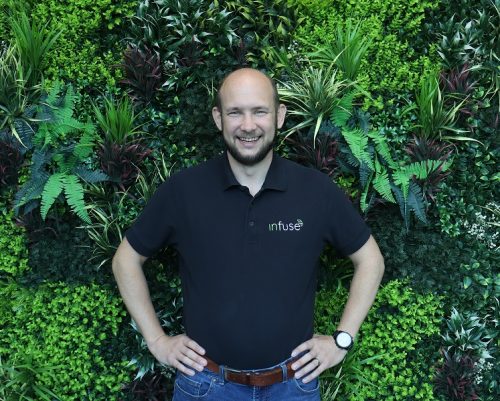 Derby IT consultancy Infuse has appointed a new senior projects manager.
Pete Marsden brings 15 years' industry experience to the Pride Park-based firm, having initially worked with clients in the education sector before taking on a number of technical support and installation roles.
At Infuse, Marsden will lead projects for businesses of all sizes and be responsible for onboarding new clients, as well as managing server installations and network migrations.
Paul Howard, managing director at Infuse, said: "We are pleased to be welcoming Pete to the team, as Infuse undergoes another exciting period of expansion and we aim to grow our reputation for providing hassle-free IT solutions in the Midlands and beyond. I'm confident that his experience of working with SMEs and his variety of expertise will make him a valuable addition to the company."
Marsden said: "I'm looking forward to getting to know our clients and delivering the high-quality IT support they have come to expect from Infuse. It feels like an exciting time to be joining the business, with new challenges to tackle and lots of opportunities for future growth."
Derbyshire-based contractor Enrok has appointed a new contracts manager.
Matt Shelley MCIOB has been promoted just 18 months after joining the construction business as a project manager.
In his new role Shelley will oversee all of Enrok's construction projects and be involved in pre-construction planning and tender submissions, as well as broader company development.
He brings over 20 years' experience to the firm having led multimillion-pound projects for a number of well-known brands.
Shelley said: "First and foremost, I want to continue Enrok's outstanding safety record and strive to bring in best practice expertise from working with larger contractors. Secondly, I want to continue to play an active part in growing our business and replicating the fantastic year we have had for many more to come.
"I really enjoy the inclusive, open and honest culture at Enrok. When big decisions need making, the whole senior team are involved. We come to a conclusion together, which is great for bringing everyone on board and driving the business forward."
Enrok director Jordan Mallisch added: "Matt's been instrumental in several of our projects since he joined us, working on Hartshill doctor's surgery in Nuneaton and our Regan Way and Ashbourne projects too. It's great to have Matt as part of the senior management team and be involved with projects from start to finish. We're really pleased to promote him within the firm and look forward to where we can take the business in the future."
Commercial office fit-out specialist Blueprint Interiors has welcomed a pair of apprentices and a quantity surveying graduate.
Kwaku Kwarteng, Muhammad Anas and Francesca Curry have joined the Ashby-based firm as pre-construction assistant, accounts apprentice and project administrator apprentice.
Blueprint's operations director Rachel Biddells said: "We recognise the benefits that come from investing in young talent. They have already had a huge impact by bringing in new ideas and approaches and this insight helps to ensure we remain at the forefront of understanding the needs of future generations in the workplace.
She added: "As we continue to secure better and bigger projects our clients have been particularly interested in our workplace consultancy expertise during the feasibility stages as this insight helps them understand what their offices need to provide."