Four step up at law firm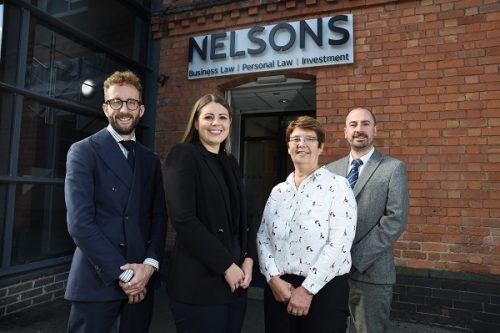 Law firm Nelsons has promoted four staff at its Derby office within its commercial property, dispute resolution and residential property departments.
Paul Hinchliffe has been promoted to partner, Oliver Maxwell has been promoted to legal director, Sarah Burns has been promoted to senior associate and Fiona Cox has been promoted to associate. Between them, they've worked at Nelsons for more than 34 years.
Hinchliffe earned a post-graduate diploma in legal practice at the Manchester College of Law in 2010 and worked at Quality Solicitors Burton & Co for six years before moving to Nelsons in 2016. He is also a trustee and vice-chair of Emmanuel House, a not-for-profit organisation that helps support vulnerable homeless people in Nottingham.
He said: "My promotion to partner is an exciting and new opportunity. Since I joined the firm six years ago, Nelsons has continued to develop and expand its services to meet our clients' changing needs. I'm looking forward to continuing with this as we grow the department in Derby."
Dispute resolution specialist Maxwell graduated from the University of Birmingham with a master's degree in law in 2011, before obtaining his post-graduate diploma in legal practice at the Nottingham Law School. He qualified as a solicitor in 2014 and joined Nelsons in 2017. He is currently vice-president of the Derby and District Law Society and specialises in commercial property disputes and contentious land trusts.
He said: "It's an exciting time for property litigation in Derby as we continue to grow and prepare to welcome more members of the team in the coming months.
"Those who seek our advice are experiencing issues with what is usually their most valuable asset, which is why I'm committed to making sure we continue to deliver the best service we can to our clients."
Burns has been with Nelsons for more than a decade after graduating from the University of Northumbria with a bachelor's degree in law, combining a post-graduate diploma in legal practice. She started at Nelsons as a legal assistant before being promoted to a paralegal, then qualifying as a solicitor and now becoming a senior associate.
She said: "I'm incredibly proud to have been promoted to a senior associate. My new position will mean taking on more of a supervisory role in the team where I can get involved in mentoring and helping colleagues develop their skills which I'm really looking forward to."
Cox who specialises in all aspects of house sales and purchases, joined the firm in 1999 when Gadsbys merged with Nelsons.
She said: "Helping first-time-buyers get a foot on the property ladder is one of the most rewarding parts of my role and I look forward to continuing to do this as we build the department's presence in the region."
Stewart Vandermark, chief executive at Nelsons, said: "Paul, Oliver, Sarah and Fiona are all integral members of the team in Derby who have shown great commitment, not just to their role but also to their clients and teams. I'd like to congratulate them all on their very well-deserved promotions and look forward to seeing what they achieve in the future."