On the move: the latest East Midlands hires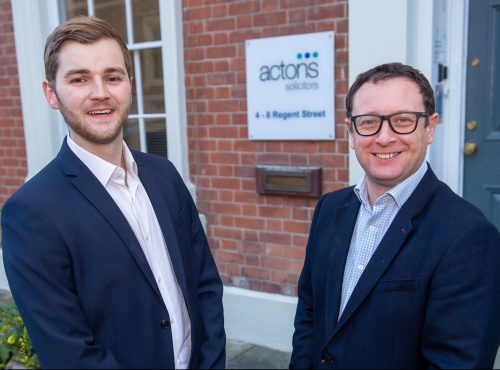 Corporate solicitor Alastair Rose has been made an associate at Nottingham-based law firm Actons.
Since joining the firm's corporate & commercial team in 2019, Rose has worked on a series of significant corporate transactions and played a key role in the team's adoption of new technology.
Peter Flowerday, director and head of corporate & commercial, said: "Huge congratulations to Alastair on his very well-deserved promotion to Associate. He has developed very well since joining us, and become a very important member of the team. Alastair has consistently performed to a high standard and has added real strength in depth to the team.
"I am looking forward to Alastair continuing to make a significant contribution to the firm's ongoing success."
GT3 Architects has strengthened its interior architecture team by promoting Charlotte Stone to the role of senior interior architectural designer.
Stone will work alongside associate director Michael Simpson at the Nottingham-based practice, whose clients include Everyone Active, Police Scotland, Karbon Homes and several major universities.
Simpson said: "We're delighted to promote Charlotte into this new role – it's indicative both of her own knowledge and expertise, and the growth in scale of projects we have been working on as an interiors team. As our clients continually reassess and navigate their use of space in a post-pandemic world, the difference that quality interior architecture makes has never been more important.
"Our growth has come off the back of working closely with clients and stakeholders to truly understand what they need from their workplace, and our expert team delivering solutions that work for them, not just in the short term, but in an ongoing capacity through our post-occupancy evaluations."
Stone said: "We have been working on a number of high-profile projects recently, and the growth within the team reflects the diversity of our interior offering. Our team is made up not just of architects and interior architects, but also technologists and psychology specialists who help us focus on our core pledge of People Architecture – making spaces that are right for the people that use them.
"We want our designs to continue to tell stories but also work in a strategic way for our clients, and I'm excited for the opportunities this new role will bring."
Sills & Betteridge has added a new solicitor to its commercial litigation and dispute resolution team.
Rachael O'Sullivan deals with all aspects of litigation, including landlord and tenant disputes, land and boundary disputes, disputes between cohabitees under the Trusts of Land and Appointment of Trustees Act 1996, injunctions, committal applications, breach of contract and debt claims.
She fully qualified as a solicitor last year.
Karen Bower-Brown, senior partner and head of commercial litigation and dispute resolution at the East Midlands law firm, said: "We are delighted that Rachael has joined our busy team. She complements the existing arrangements extremely well with her broad litigation knowledge and experience in representing both claimants and defendants. She has settled in well and I am looking forward to seeing her legal career progress with Sills & Betteridge."
O'Sullivan said: "I have known Karen and her colleagues in the litigation department professionally for some time, and always admired the pragmatic approach they take to achieve the best outcomes for their clients. I am very fortunate to work in a team which deals with such a wide range of commercial and civil dispute matters and know I will benefit greatly from their support and mentorship."