Once-saved village pub at risk due to home plan approval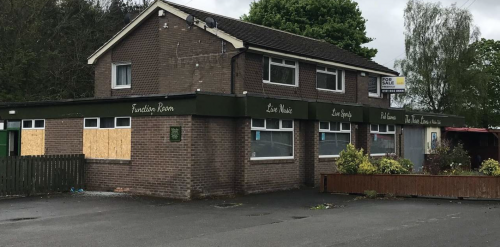 A community-led campaign once prevented the closure of the Three Lions pub in Meden Vale by securing its designation as an "asset of community value" in 2021.
This designation provided community groups with a six-month window to gather funding and submit a bid on the market with the intention of using the building for communal purposes.
No such bid was submitted for the pub, which has been empty since January of the previous year and is characterised as being in a state of disrepair according to the local community.
The agreement to list the property for a community bid officially concluded in March 2022. Subsequently, developers submitted revised housing plans for the pub in May of the same year.
Mansfield District Council cited the pub as "no longer viable" in their decision.
Shape Land and Property initially proposed the demolition of the pub and the construction of 41 affordable rental and rent-to-buy homes. These homes would comprise 28 one-bedroom apartments, one two-bedroom bungalow, and seven two-bedroom and five three-bedroom houses.
During the planning consultation, six objections were raised, primarily focused on the loss of the pub and its implications for the village. Concerns included the safety of the nearby school due to traffic and visibility issues at a pedestrian crossing close to the site.
In response, the applicant conducted its own viability assessment for the former pub. This assessment concluded that the pub's facilities were notably subpar when compared to modern customer expectations, citing a deficiency in food offerings and an overall poor appearance.
The assessment also pointed to stagnant customer levels and declining drink sales, estimating that approximately £225,000 would be necessary to bring the pub up to contemporary standards.
To address various concerns, it has been reported the local authority will request financial contributions from the applicant. This comprises £22,216 for healthcare, £18,600 for enhancing bus stops, £1,498 per home for a strategic highways plan, and £1,100 per home for off-site public open space improvements.
The council's planning department is recommending approval of the plans at the planning committee meeting scheduled for Monday, September 25th.
\
'); } } }); googletag.enableServices(); }); googletag.cmd.push(function() { googletag.display('div-gpt-ad-1455904060045-0'); }); googletag.cmd.push(function() { googletag.display('div-gpt-ad-1455904060045-1'); }); googletag.cmd.push(function() { googletag.display('div-gpt-ad-1455904060045-2'); }); googletag.cmd.push(function() { googletag.display('div-gpt-ad-1455904060045-3'); }); googletag.cmd.push(function() { googletag.display('div-gpt-ad-1455904060045-4'); }); googletag.cmd.push(function() { googletag.display('div-gpt-ad-1455904060045-5'); }); googletag.cmd.push(function() { googletag.display('div-gpt-ad-1455904060045-6'); }); googletag.cmd.push(function() { googletag.display('div-gpt-ad-1455904060045-7'); }); googletag.cmd.push(function() { googletag.display('div-gpt-ad-1455904060045-8'); }); })