Nottingham businessman confirms Scunthorpe United is up for sale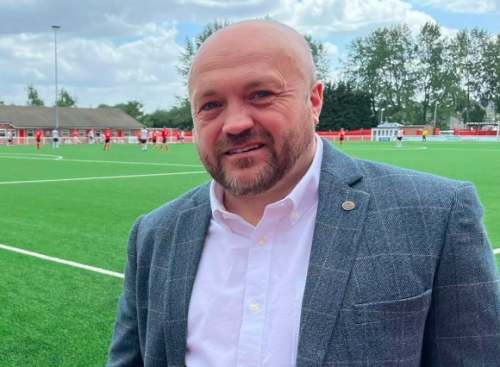 David Hilton, the Nottingham businessman who found success with Ilkeston Town, has confirmed that he is ready to exit the ownership of troubled National League North side Scunthorpe United.
Hilton posted a message on a Facebook fans group on Tuesday evening (September 19) saying the money he claims to have put into the club, which he bought earlier this year, has been "lost forever".
The move comes as County Court Judgements begin to pile up against the Iron and a winding up petition was issued against a firm which provided stewards at the club's Glanford Park home last season.
Meanwhile, the former Notts County owner Alan Hardy said on Twitter that he had been in touch with Hilton last week – and that the financials involved with putting the club back on a more sustainable basis were "frightening". Hardy had expressed an interest in buy Scunthorpe United when previous owner Peter Swann put the club up for sale.
Spoke at length with David last week. The numbers are frightening and the task is enormous

— Alan Hardy (@Bigalanh5) September 19, 2023
It also follows an excoriating, in-depth article in football magazine The Athletic, in the aftermath of which Hilton admitted he had served nine months of a two-year sentence for 15 counts of fraud worth a total of £68,000, which he had since paid back.
However, he said these convictions were spent under the Rehabilitation of offenders Act 1974 and he had passed the Football Association's Owners' and Directors' test.
In the statement on Tuesday evening, Hilton said: "I will confirm that I have known about the Athletic article for seven weeks. It was fairly obvious the news was going to cause massive embarrassment for me and there was a strong possibility it would create a lack of support. I made the decision weeks ago that I would temporarily limit my funding contribution to cover current staff wages only.
"This is why after seven months of no serious issues despite the mess inherited we now have a winding up petition with another to follow in due course. We also have numerous CCJs and ex staff waiting on redundancy payments.
Please understand that any money I put into the club is lost forever and whilst I'm still committed to funding the club it has to be under the right circumstances.
"I can confirm the club is up for sale. I do not see how my reputation can ever be repaired fully at the club even with success and therefore I will be looking for ways to limit my exposure and exit without it affecting the clubs [sic]playing side or it's [sic] future existence.
"I will fund your club to ensure its survival, and the playing side will be unaffected until a new owner is found."
Around an hour later, an official – and lengthy – statement appeared on the Iron's website.
The Athletic investigation alleged Hilton had twice changed his name – from his birth name of David White to David Anderson and then David Hilton – and that as David White he was director of four companies that were dissolved without filing accounts between 2006 and 2012. As David Anderson, two further companies were dissolved, and he was convicted of 15 counts of fraud, cleared of a 16th offence, and started a two-year prison sentence in April 2015.
The Rehabilitation of Offenders Act considers an offence punished with less than 2 years and six months spent after four years.
On the podcast Hilton said the convictions related to his keeping the proceeds of a council refuse skip brokerage.
"It was completely the wrong decision," he said. "I'm completely embarrassed by it. But it happened."
Hilton, who stepped down as Ilkeston Town chairman when he bought Scunthorpe United earlier this year, said he had trained as an electrician and started property companies which failed as a result of the global crash. He said the failures led to the break-up of his relationship, and in 2011 he had attempted suicide.
The decision to keep the money was when he was in that "dark place" he said. "I didn't really care. I didn't care about consequences, didn't really care what happened to me."
He had run out of money and used the fraudulent proceeds to live, not to fund a flashy lifestyle, he said.
But he said his time in prison allowed him time to reflect, and to quit anti-depressants.
"I was fresh, I was fit, I was healthy of mind. And I worked hard. Everything from that point has been about righting the wrongs and making sure I could make my family proud."
But he said he was approaching the dark place again, and although he stopped short of announcing his resignation his words suggested he was considering it.
"I don't feel like I can overcome anything else. This is leading me down a path that I really don't want to go. And I'm not prepared to go."