Theresa May announces resignation date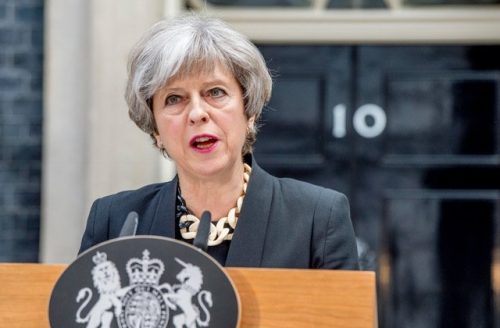 X

Register for free to receive latest news stories direct to your inbox
Register
Theresa May has revealed that she will step down as Prime Minister on 7 June.
May announced her departure in a statement outside No. 10 Downing Street this morning after a meeting with Sir Graham Brady, the chairman of the 1922 Committee.
In an emotional speech, she said: "I have tried to make a country that worked for everyone and honoured result of EU Referendum. I have done my best to deliver on that. I have done everything I can to convince MPs about my Brexit deal, but I have not been able to do so. I now believe it is in the best interests of the country to resign leader on 7 June.
"It has been the honour of my life to serve "the country that I love."
May said that she will recommend that a leadership race will begin in the week following that. She will continue to serve as caretaker leader until that process has concluded.
May, who took office in 2016 in the wake of the EU referendum, has seen her time as Prime Minister completely dominated by Brexit and she was unable to unite MPs behind her.
Leadership campaigns had already effectively been launched by Boris Johnson, Rory Stewart and Esther McVey before May's announcement, while the eventual list of candidates could reach double figures.
Dominic Raab, Michael Gove, Andrea Leadsom, Jeremy Hunt and Sajid Javid among the bookmakers' contenders behind the current favourite Johnson.
May's departure had long been a question of timing and she had previously ruled out leading the Conservatives into the general election scheduled for 2022.
She struggled to exert her authority since the 2017 general election, which resulted in a minority Conservative government supported by a confidence and supply arrangement with the DUP.
May was weakened further as the negotiations for the UK to leave the European Union dragged on and Parliament repeatedly failed to support her plans.
She survived a vote of no confidence from Conservative MPs in December and a Parliamentary vote of no confidence in January. Three Conservative MPs – Heidi Allen, Anna Soubry and Sarah Wollaston – defected to join the Change UK Party in February.
Since the election 12 ministers have left Cabinet, including Gavin Williamson and Andrea Leadsom who departed this month, and another 38 ministers have resigned office.
Rushcliffe MP Ken Clarke told the Today programme: "The European Research Group – the right wing of my party have finally got their woman. "They've been trying to get rid of her for the past few months. They seem to imagine that the party will now unite behind the one of them that most resembles Nigel Farage – I don't think it's going to be like that."
More to follow.