"I vowed I would always treat everyone with respect, no matter what their, or my position was"

Amy Russell, director at Crescent Business Support. With over 27 years of experience in the administration, secretarial and HR sector, she is passionate about developing robust and easy to use systems and processes, which improve efficiency. A Fellow of the Institute of Administrative Management, she has also been a finalist for a number of industry awards and was recently announced as the North East England VA of the Year 2020.
---
The best thing about my job is supporting growing businesses and seeing them thrive. We usually get to work with a business at one of their most exciting parts, which is the growth. By seeing their business from an outsider's point of view, we can suggest ways to be more efficient which also saves them money. Seeing that lightbulb moment when we introduce a system that works is great.
One of the opportunities for growth in the next year is to support more clients and we plan to do this by increasing the size of our team. As we are fully flexible, offering a pay as you go model, this appeals to a lot of clients who know they need additional support, but don't know just how much yet. With us, they can increase as and when they need it.
Getting people to understand the value and benefit we can add to their business, is a big issue within our sector. They immediately think they can't afford us, rather than looking at what additional support and expertise we can bring. Because of our flexibility, we can offer a cost-effective option for a business requiring additional support, and can guide them when the time comes to look at bringing that support in house. As a VA, we offer more than just typing, such as bookkeeping, project management and often being a trusted adviser and second pair of eyes to the business owner. We need to continue to champion these additional skills and areas we can support businesses with.
Online or virtual working has now become the "norm", this is a massive change we've seen over the last five years and it has only been accelerated further over recent months. This means more businesses are open to using online business support. Better cloud-based technology and stronger Wi-Fi connections have meant this way of working is more secure and more options are available to businesses who embrace new ways of working.
A phrase that I use a lot is "Flexibility is Key". I set up Crescent because I wanted more flexibility in my life. But as the business has grown, I have been able to offer that same flexibility to my team of associates, who can work when they choose and with clients they want to support, doing tasks they enjoy. The flexibility is also offered to our clients, and this has been vital in the recent months. They have been able to change their requirements with us, with no penalties, as their circumstances have changed. I've been able to continue to run my business with a clear conscience that I am providing the best level of support to everyone I can.
A lesson I learnt very early on in my career that's stuck with me to this day is be aware of how you treat people. One of my earlier managers seemed to believe that by shouting and making their team feel small was the best way to manage people. I vowed I would always treat everyone with respect, no matter what their, or my position was. The lesson I learnt is that that team work and collaboration work much better, and bring out the best in everyone.
Two people who have had a massive influence on my career are my dad and my grandad, and even though neither of them are still with us they continue to inspire me to this day. My dad was in the RAF and helped me to learn a lot about my values and beliefs and the importance of process and systems. My grandad signed me up to my 1st admin course when I was 18 so I really do have him to thank for my career!
Getting out of the office is important and crucial to relaxation, so I run, not very well or very far, but I do love earning some Bling (runners speak for medals!). I'm missing parkrun which is on hold due to Covid, but I love to travel the country to try out different courses, and the fact that its free is fantastic. I also love reading; give me a good book and I can finish it in one sitting. Usually choosing a crime thriller or an autobiography. Jo Malone's story was great and I loved getting an inside view on the Obama's life in Becoming. Jigsaws are also good – they are a great way to completely relax away from any sort of screen, and most require concentration so I really have to shut my mind and focus on that one task. When we are allowed to, I love travelling with my family. We had a three centre Far East tour planned for this year which we have had to postpone, so I'm looking forward to being able to get out and see the world again.
---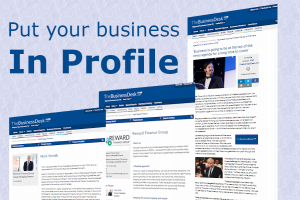 Appear in your own In Profile feature by signing up for a Business Profile on TheBusinessDesk.com.
The company and individual profiles on TheBusinessDesk.com are designed to help our clients build corporate and individual awareness within the regional business community and benefit from TheBusinessDesk's traffic and visibility in the business community and the search engines.