Spending Review outlines largest fall in output for 300 years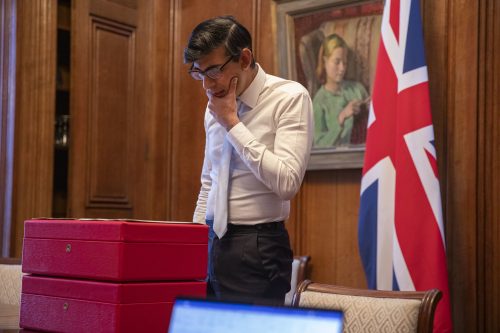 The UK economy will shrink by 11.3% this year – the largest fall in output for 300 years – Chancellor Rishi Sunak said on Wednesday afternoon in his Spending Review.
Sunak said the Covid-19 will leave "long-term scarring" and that the economy won't return to pre-pandemic levels until Q4 of 2022. By 2025, said Sunak, the economy will be 5% smaller than first thought in the Spring Budget earlier this year.
The Chancellor also said that Government borrowing will reach almost £400bn this year – some 19% of GDP, the largest level of borrowing in peacetime.
Sunak said that a new "infrastructure bank" will be set up and headquartered in the north of England. It will finance major projects starting from next Spring.
A new £4bn levelling-up fund was also unveiled. Local areas will be able to apply for funding for major projects starting from next Spring. The projects, said Sunak, would have to have "real impact" and be delivered within the lifetime of his Government.
Elsewhere, Sunak said the Conservative manifesto pledge to spend 0.7% of GDP on overseas aid will be temporarily scrapped. It will be cut to 0.5%.
Some one million nurses, doctors and others in NHS will get a pay rise, while others in the public sector will be faced with a pay freeze. Another 2.1 million public sector workers who earn below the median wage of £24,000 will be guaranteed a pay rise of at least £250 next year.
The National Living Wage will rise to £8.91 a hour and there will be a Minimum Wage increase, said the Chancellor.
He added: "This Spending Review delivers on the priority of the British people. Our immediate priority is to protect people's lives and livelihoods. Our health emergency is not yet over and our economic emergency has only just begun."