"Working with talented hardworking people is not only rewarding but it helps drive me forward"
X

Register for free to receive latest news stories direct to your inbox
Register

Gav Winter is the CEO of Leeds-based RapidSpike a business which is working to make digital experiences better, faster and more secure. Having spent over two decades in the technology, Winter is an award-winning leader who founded one of the fastest-growing tech companies in the UK before architecting a merger to create the UK's largest independent testing consultancy. He has been with RapidSpike for the last two years and has been key in supporting its continual growth.
---
It's cliché but working with talented hardworking people is not only rewarding but it helps drive me forward. The success of the business relies firmly on the cumulative success of the team, the mission we are all bought into and how we implement it, that requires everyone to be onboard and I love helping make that happen through motivation, removing obstacles and providing a working atmosphere that allows people to be the very best version of themselves, it's one of the best parts of my job.
People are much more concerned about performance and security than ever before; customer experience is now the norm not the exception. But with online e-commerce, cyber-attacks and interactions growing rapidly driven by social changes, technology advancements and by Covid-19, the a need for a customer focused, more advanced, more insightful synthetic website monitoring solution is crucial. This is where RapidSpike will thrive.
Whilst Covid-19 is fantastic for e-commerce, that is no good if other types of businesses do not survive. We work well with all types of business, especially anyone who sells online be it a bag, a toy, a flight, a ticket, a holiday home or anything else that requires a trade. But for the business to be the best version of itself, we do need the world to be more normal again albeit on an accelerated path to online as the default, however I think we still haven't seen the full extent of the chaos yet, this will unfold in early this year alongside the wider changes the world is experiencing.
The change in consumer behaviour and the move towards e-commerce for all types of goods has been a transformational change. We are probably one of the few business saying that the push towards online due to ongoing pandemic is enormously beneficial to our growth. People will be less likely to want to visit busy shopping centres in the medium term and those who are confident will learn to shop online as the default, not as an alternative. There has been a longstanding move online which has picked up pace over the last five to 10 years but Covid-19 has put the turbo boosters on digital transformations.
As an entrepreneur growing a business, I have always said I try to be the 2nd best at everything in my business, or team. When we hire, we like to hire people with specific skills and/or attitudes that mean they will become the experts in our business and that we have an expert in everything we need and we listen to those people.
I was once told, "Do not ask someone to do something you will not be willing to do yourself" and it has stuck with me. I think you must have integrity when asking others to do things and they must know you are willing to role your sleeves up and help alongside them.
To provide a list of my influences is difficult, there are too many to mention, from people I have worked for to people who I have worked alongside. I like to think I can take inspiration from every interaction, even if it teaches you how not to do something! But my dad blessed me with his work ethic and right now, I am hugely inspired by most female leaders I see. Jacinta Arden is a particular one as she is progressive, has a people-first attitude and leads with empathy, which I have consistently been told by some leaders is my weakness! However as a city Leeds is blessed with progressive leadership too, so I feel like I'm in the right place to learn what it takes to be the best kind of leader in today's world.
Out of the office I love to walking and cycling especially in the Lake District but also at the St Aiden's RSPB reserve near Leeds, as well as spending time with my family watching films, playing Lego and games, or coaching Under-6 football. However, the pandemic has re-introduced me back to an old love of mine, the PlayStation and Call of Duty! I think in work relaxing is also so important, finding out about what the team is doing, playing fun 'get to know you' games like through the keyhole and testing my repertoire of terrible dad jokes on them is very relaxing (for me).
---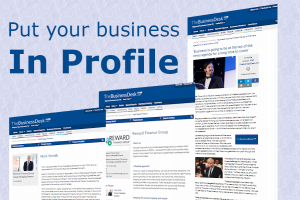 Appear in your own In Profile feature by signing up for a Business Profile on TheBusinessDesk.com.
The company and individual profiles on TheBusinessDesk.com are designed to help our clients build corporate and individual awareness within the regional business community and benefit from TheBusinessDesk's traffic and visibility in the business community and the search engines.