FinTech and the north
X

Register for free to receive latest news stories direct to your inbox
Register
FinTech is a fast growing sector and one the north has been gaining a reputation for.
During the Invest North panel entitled FinTech disrupters, chaired by Ben Ormsby, Yorkshire editor of TheBusinessDesk.com, an expert panel looked at topics including why the North is such an attractive location for FinTechs, what's the next exciting thing to come from the sector.
The panel included Gary Woodhead, CEO and co-founder of CurveBlock a property FinTech business which is using blockchain technology to make property investment open to everyone; Polly Taylor-Pullen, head of sales at Manchester award winning FinTech Nivo that is transforming regulated industries with instant messaging protected by bank standard authentication, Julian Wells director of Whitecap Consulting and representing FinTech North, and Luke Freeman, director at Whitecap Consulting.
So how has the north carved itself as a place for FinTechs?
For Woodhead he explains it's down to the diversity.
"For me it is the diversity that we're seeing within the north which is making a transition which is blazing trails. What is growing in the north is an extremely positive environment for startups, SMEs and innovators, within FinTech because it's actually bringing products to realisation."
Taylor-Pullen added that for Nivo they're proud to be based in Manchester and part of a "growing community". She explained that she sees the tide turning and how a decade ago the opportunities for graduates to enter exciting fast growing companies in Manchester.
"I'm glad to see now we are changing the tide, I think there are increasingly more opportunities for people to be based up here. And London isn't the first place that people think of now, I think Manchester is is definitely up there. And it's something I'm pretty passionate about. I think Manchester should be on the map. And the more companies we can invite to this brilliant city, I think the better the FinTech community will be as a whole."
Wells added that interest in the sector has continued to grow, with more people working in roles relating to the sector and he like Woodhead states it's down to the "right ecosystem".
"It's the result of the the sort of the ecosystem around the North growing to support early stage businesses, generally, there's a lot more shared workspaces, there's a lot more incubator accelerator type places, and there's just a lot more interest in FinTech across things like investment and skills and just in profile, as well."
Freeman combined previous points to focus on the talent which the north produces from its Universities adding in the region also boasts a strong professional advisors network which means that it has this ready made infrastructure to support growth.
Looking ahead all the panellists are excited about the future for CurveBlock, Woodhead explains the business is looking at ways to grow internationally.
He explained how the High Commissioner of Canada and approached the business to look at ways to take the product and scale it into Canada which he describes as "easily doable".
"The tech is FinTech it can go anywhere, it's just about regulation and getting the relevant approvals from regulatory bodies. For the asset aspect, we're not reinventing the wheel modern methods of construction is happening all over the world, it's just we chose to integrate renewable tech. So for us urs about strategic partnerships with civil engineers and volumetric manufacturers in Canada and then it can be rolled out as quickly as in a year."
Taylor-Pullen echoes Woodhead stating: "Really Nivo could be working with any regulated service provider, our whole ethos is about making it much easier for that consumer to contact and transact with that provider."
Explaining that many service providers are looking for more innovative ways to improve the customer experience. Adding, "Sometimes it's much easier than you think and partnering with a provider like Nivo can be easier than sometimes building it in-house."
She added that being based in the north has also been a "strong advantage" for the business as she describes how a large amount of clients are northern based and might have "previously felt neglected by the large technology providers that won't visit Leeds or Manchester", now "like the idea of having somebody down the road that they can speak to" and not "having to get on the Pendolino to London".
For Wells the future opportunities for FinTech flow both ways. He explains how FinTech North is working on a series of trade missions with Australia, Singapore, America and Canada, and central and easter Europe. he added what was interesting is that the locations all "specifically want to link with the north".
He added: " It's two way, it's partly those companies from those, those locations, looking to see what they can do in the UK market. But there's also a real focus on how do we get UK companies from the north, operating in other markets."
He noted he sees a real push from places like the Department for International Trade to champion the northern FinTech sector internationally and he's interested to see how that evolves over the coming years.
The session closed with a look to the future and what is the next big trend to come from FinTech.
With Freeman summing up the infinite possibilities.
"I don't know what the exact answer to the question. But, there are a million use cases that we haven't even thought of yet, within financial services, and in a bunch of other applications."
Adding that he's excited to see how "FinTech works with the era of open data to create solutions that we haven't even thought of yet."
---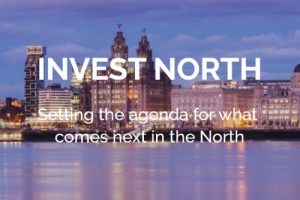 Invest North is a one-day virtual conference bringing together more than 500 people including business and policy leaders to set the agenda for what comes next in the North.
The event has been curated by TheBusinessDesk.com and backed by a broad coalition of organisations spanning the public and private sectors, led by EY, Squire Patton Boggs, Influential, and Impact Data Metrics.