How invoice finance can get businesses back on track in 2021
Invoice finance will have a significant role to play throughout the pandemic recovery.
That's according to some of the key people within the finance sector who have urged firms to think about cashflow before funds runs out.
In a recent online panel event, hosted and organised by Optimum Finance, a selection of business owners and leaders came together to explore how invoice finance can get businesses back on track in 2021.
Joining the debate were representatives from organisation across the UK.
They included; Ant Persse, CEO of Optimum Finance, Philip King, the Small Business Commissioner, Warren Ralls from the British Business Bank (BBB), Josh Levy, CEO of Ultimate Finance, Evette Orams, managing director at Hilton-Baird, Steve Noble, managing director at Reward Capital, Martine Catton, CCO of Just Cashflow and James Hawksworth from RSM.
In the second part of our post-coverage write-up, Philip King, the Small Business Commissioner, said too often businesses failed when their funds depleted.
"The timing of cash is critical" he said.
"Small businesses particularly only think about cash when it runs out, so they don't think about it on the ongoing basis, and too often, they're not planning or managing it properly.
"As we come out of recession, the impact on cash flow is going to be greater.
"As businesses recover and invest more they will need finance to support growth and invoice finance is one of those tools that businesses are going to need to look at.
"And we're going to need to have a variety of mechanisms to raise funds as a business as they start to repay loans such as the CBILs when it becomes payable and as tax holidays end and so on.
"Cash is going to be key. I would like to think that (invoice finance) is one of the tools that gets used and exploited effectively."
James Hawksworth from RSM suggested businesses take May and June as a period to focus on their projections and cashflow before legislation changes and the restrictions on winding up fall away at the end of June.
"The period leading up to the end of June is really where companies should be looking at their projections and understanding what sort of cash and working capital requirement they might need in July and beyond. Invoice financing will play a key role in helping to support them."
Steve Noble, managing director at Reward Capital, added: "You have to be able to find a product for both recessionary and growth times.
"Invoice financing been around for more than 50 years and it's proved increasingly versatile over that time as we've moved from being a manufacturing to services nation."
According to UK Finance, only 35,000 UK companies use invoice finance.
Asked why these companies are not using invoice finance to help them unlock this cash, Evette Orams, managing director at Hilton-Baird, pointed to a survey the firm carried out a few years ago which showed there were still misconceptions and preconceptions around it.
"The ones that could use invoice finance but chose not to use it and manage their debt in other ways felt that it was complicated. They see invoice finance as complex and they're scared of it and if you ask them  why they felt it was complex, they might point to someone they trade with had said so."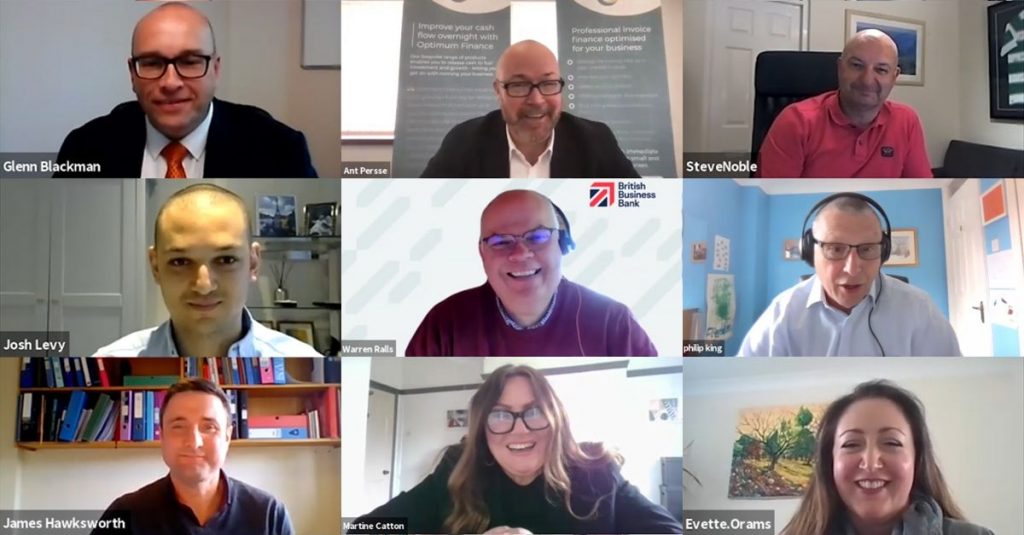 Warren Ralls from the British Business Bank (BBB), said: "We have our own small business finance markets report which we publish each year.
"When it came to invoice financing, only 45% out of 4,000 SMEs we surveyed are actually aware of invoice finance. But of those 45% Only 1% actually use invoice finance.
"So there's some awareness needed around this. There's certainly nervousness about potentially the SME's customer being called by somebody else chasing for payment implying that the SME is in trouble. There's a need to probe into this further."
Philip King said: "I talk to a lot of micro businesses, most of them see the only opportunity for finance as overdraft and when that doesn't work, they go to friends and family.
"Anything beyond that is too complex, too difficult, too dangerous, too risky. They don't understand it, therefore they shy away from it.
"I think we as a group of interested parties need to raise the game so the businesses understand what is available, how it can be used practically, and what it means for them."
King said invoice finance was often seen as a last attempt after companies had already sought help from their mainstream lenders. Instead, invoice financing should be seen as an added value product which can work with a package of term loans that meet the financial needs of a business.
"That's not the way the industry operates generally, and I think that's to the detriment of profitable businesses.
"So, we have to raise the game in terms of getting businesses to understand what the product is and what it can do for them, and how they work and how they can really benefit."
Josh Levy, CEO of Ultimate Finance, also agreed there was still a perception issue.
"There are still misconceptions, but the end user doesn't care about the product and the different features, what they care about is a solution to their problem, and that's what we need to focus on."
Asked if invoice finance is fit for the modern technological world where payments can happen instantly, the panel agreed automation has accelerated in the last 18 months but it was also essential to retain the people element of the business.
Evette said: "Essentially we are a people business at the end of the day and sometimes the computer can easily say no.
"Relationships are really important because you want to be able to pick up the phone and talk to someone if there's a problem."
Ant Persse added: "Our business is all about relationships. All of us offer facilities with relationship managers sat behind them to help take away that fear and complexity that was mentioned earlier.
"Invoice financing should be straightforward and there's no need to over complicate it with jargon.
"The technology is there and it's absolutely ramping up with API, open banking, cloud accounting integrations. All those are speeding things along, but you link that with relationships, and we've got a winner."
He continued: "There are three core focuses that I think that invoice finance needs to head towards. One is speed and getting cash to businesses quickly. Secondly, a focus on simplicity and how we can make the whole process easier through technology by accessing open banking and linking it into the private accounting platforms.
"And thirdly, let's make it convenient so SMEs can access what they need on their phone while they are on the go.
"This is what technology will drive. It's that speed, simplicity and convenience, but to have the relationships as well is what makes it work."