West Bromwich Albion goalkeeper buys into Lancashire tech-start-up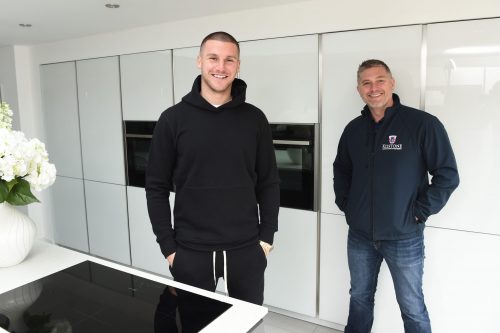 West Bromwich Albion goalkeeper Sam Johnstone has taken a stake in Lancashire-based tech start-up Kiistone.
Preston-born Johnstone was one of the first users of the Kiistone app which allows tradespeople and customers to agree job specifications and budgets ahead of work commencing.
Payment is then taken and held independently, by the largest Escrow provider in Europe. Monies are then diverted to the tradesperson in stages, based on the successful completion of the works specified in agreement with the customer.
Johnstone had been asked to beta-test the app during the full refurbishment and extension of his family home in Altrincham.
He was so impressed by the experience he has now become a shareholder in the company, which is aiming to transform relationships between trades and customers.
Johnstone said: "When we were planning a major refurbishment of our family home, including a fully-fitted extension, all new bathrooms and driveway, I was offered a chance to road test the app by the project manager.
"It seemed like a really good idea, so I was happy to give it a go. I don't know anything about building works, but having the project broken down into stages helped me feel in control of the progress and my budget.
"It ended up being a great experience and I feel confident it will be able to help others too, which is why I'm really pleased to have come onboard with the company as a shareholder.
"Not only do I think it's a great app, but it's something I believe will really help change the way things are done for the better, both for trades and for the general public who require their services."
As well as the Escrow solution, the app provides further functions to help tradespeople manage their projects, diary, cashflow, admin and communication.
It also links to the Kiistone Community website, providing industry news, guidance and support for trade businesses and homeowners.
Kiistone founder and CEO Tim Mullock said: "In my experience over the last twenty years of being a British tradesperson myself, I've seen all of the good, and the not so good, that the industry has to offer, and the biggest issue that we've still got today is a lack of trust between the customer and the trade.
"High net worth individuals, especially, can often find themselves faced by the worst side of the trade, where there is an assumption that 'money is no object' and so project budgets can seem to spiral out of control.
"The bad news for honest tradespeople is that these horror stories filter into the public psyche, which causes uncertainty in the working relationship between tradespeople and the customers.
"Customers who have watched programmes such as Rogue Traders have begun to treat tradespeople with a certain level of distrust. While it's undeniable that there are some cowboys out there, professional tradespeople often find themselves tarred with the same brush, which doesn't make for good customer relationships.
"On the flipside, even the very best tradespeople can experience a lack of understanding or unrealistic expectations from customers, especially when additions have been added to the specifications halfway through the job, which can lead to disputes over final invoices.
"The Kiistone app has been designed to provide a professional solution for both parties, maintaining absolute clarity to customers at all stages of the project and ensuring fair payment for the job delivered."