Demand driving intensification and densification of city centre

Renowned architect Ian Simpson spoke of Manchester's resilience and ambition to truly become a city where people lived and worked.
Simpson was a guest speaker at a recent property event hosted by TheBusinessDesk.com in partnership with Alexander & Co and Beyond Corporate.
The architect behind the Beetham Tower told delegates it will take another 20 years before Manchester city centre achieved its vision of a city where people – including families and the elderly – lived and worked and that the confidence was there from developers, investors and the local authority to meet those ambitions.
"Residential takes time," said Simpson, founder of SimpsonHaugh.
"You've got to remember in 1996 there were about 400 people living in Manchester.
"It's not a place that people are used to living in so it's been building up to that over the last 25 years.
"In another 25 years we might be at the scale of Barcelona or a typical European city where people expect to and want to live, quite often renting because that's what they expect.
"But what we are seeing now is that mix of tenure being driven by demand. There's only so many very large apartments you can bring into the city right now because there's a choice quite close to the city.
"What's starting to happen is that around the city core we're starting to get really mixed communities of both affordable housing as well as apartments and houses.
"By bringing in amenities such as GP surgeries and schools will add to the current mix and help the city centre become more diverse."
Pointing towards Great Jackson Street development, a scheme which will provide townhouses, apartments, penthouses, accommodation for over 55s, residents' gardens, doctor's surgery and retail space, alongside Trinity Island, which consists of four towers ranging from 39 to 60 storeys, together will create a "population the size of Wilmslow".
"That's 20,000 people living between those two schemes occupying 0.118 of a kilometre instead of 36 square kilometres," said Simpson.
"For me, that's a really sustainable way of using our land. We're not getting any more land and that to me is a really precious commodity.
"So, intensification and densification of our city core is really important. Most of these sites were car parks or even bomb-damaged sites from years ago that have never been touched.
"So, we're not destroying anything that's been there previously.
"So I'm really passionate about more people living here, we need a city of 200,000 people, not just at the weekend when it gets really busy, but people in and out during the day going to schools, going to work, or visiting the health centres, and we're creating that in Great Jackson Street."
Joining Simpson on the panel event in Spinningfields, were Max Bentham, Senior Development Surveyor at Muse Developments, John McCaffery, Tax Partner and Head of Tax at Alexander & Co and Owen Mckenna, Partner at law firm Beyond Corporate.
Bentham said Muse has  several developments in the pipeline including schemes in Salford and Manchester and as well Stockport and Bolton.
He said: "Covid has accelerated change across all sectors of the industry, whether you're looking at residential, commercial, or industrial. The change is difficult to track but if you look at the residential market, it's been incredibly robust.
"We're still learning about how we adapt and what changes are going to be short lived and what changes are going to be more permanent.
"So across all our areas we need to understand how we need to a step ahead simply by delivering schemes of relevance and value."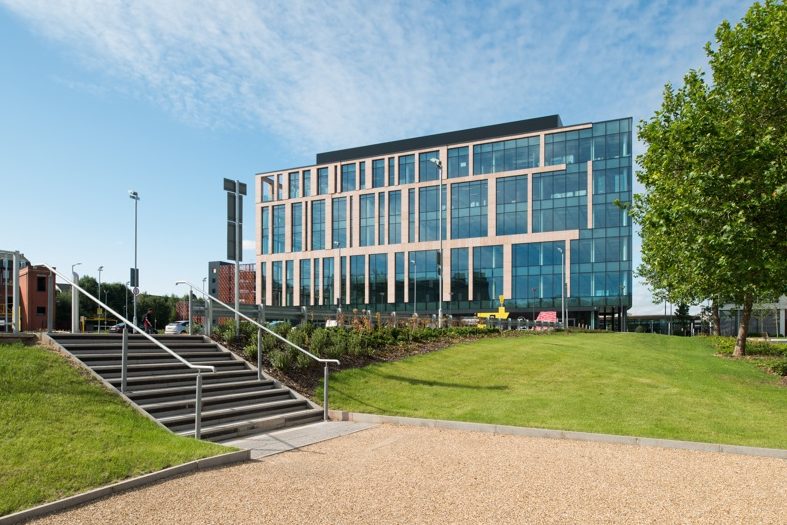 2 Stockport Exchange
Bentham said he has seen strong office take-up despite more people working from home during the pandemic.
Schemes such as 2 Stockport Exchange – the striking 61,500 sq ft Grade A office building in the heart of Stockport town centre, which was delivered collaboratively by Stockport Council and Muse Developments – has seen strong uptake.
"In Stockport we've seen really robust office take-up," he said.
"The move to hybrid working, which existed long before Covid, is in demand and we have created a space that is doing really well and has a good pipeline of interest."
Bentham said working collaboratively with the public sector has also helped to create spaces and buildings that meet the needs of local people but also help to attract and retain talent.
"We work with some really proactive, courageous partners that support a diverse range of schemes that help with submitting planning applications and start new projects on site.
"It helps bring the vision to life and in doing so we're working with the local community who will benefit from these schemes and who in turn want to stay and work in these towns as well as attracting talent to places where people might not have previously considered."
John McCaffery, Tax Partner and Head of Tax at Alexander & Co said property was one of the most resilient sectors during Covid  with a number of elements pushing transactions.
"Covid pushed a lot more online retail firms to look for warehouse space, and the stamp duty holiday caused significant transactions in the residential property market," he said.
"People were also planning around inheritance tax so there was a lot being moved, shifted, and planned around that.
"Rumours of capital gains increase also caused corporate transactions in businesses, but also property transactions.
"The market has proved to be resilient."
Looking at the appetite for global investors, McCaffery said Manchester was perfectly placed to attract international investment even with tax implications when buying a residential property or a second home.
"It's not put people off," he said.
"Manchester is seen as an international city for investment, whether that be through piecemeal investors buying residential property or institutional international investment.
"And that's down to the fullness that we see in Manchester over recent years. It's the geographical expansion of Manchester as well as the great values around sustained growth which is absolutely going to attract international investment.
"We've got a fantastic education offering in Manchester, and there's also the benefit of our political stability compared to some other countries. Those are all key drivers that sustain investment into Greater Manchester and the UK."
Healthcare was another area that has seen a huge appetite for development.
Owen Mckenna said: "The North West has a strong market for healthcare properties and the pandemic has highlighted the need for better healthcare assets.
"The NHS has been put under ever-increasing strain by Covid, which has highlighted the need for adequate and modern healthcare provisions and there are certainly developers that are well-positioned to develop such schemes and are doing so.
"It's an area that we see will continue to grow, and going back to Ian's point of a need for more amenities in the city centre, we see healthcare evolving both in cities and in towns."