Boohoo shares plummet as it slashes sales outlook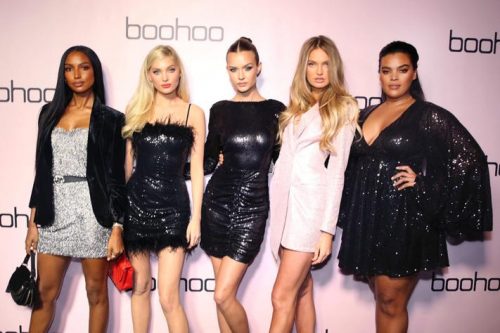 Fashion giant Boohoo has slashed its forecasts as its sales growth slows and costs rise, while it waits for "pandemic-related disruption" to ease.
Investors reacted badly to the warning, sending its share price down more than 20% when the markets opened, continuing a dreadful six months that had already seen its share price lose half of its value.
The Manchester-based owner of brands including Pretty Little Thing and Debenhams has revealed it now expects its annual sales to increase by 12-14%, around half of its previous forecast range of 20-25%.
That will also impact profits, with it reducing its margin forecast for a second time. It now expects its adjusted EBITDA margin to be 6-7%, down from 9-9.5%, implying adjusted EBITDA of £117m-£139m.
Boohoo has also raised its provision for exceptional costs by 50%, to £33m, caused by warehouse and new brand restructuring.
Boohoo Group chief executive John Lyttle said: "The current headwinds are short term and we expect them to soften when pandemic related disruption begins to ease.
"Looking ahead, we are encouraged by the strong performance in the UK, which clearly validates the boohoo model.
"Our focus is now on improving the international proposition through continued investment in our global distribution network, capable of delivering in excess of £5bn of net sales, to support future growth."
However it expects the Omicron variant to impact demand with higher returns rates in January and February and is preparing for higher freight costs.
Boohoo was one of the pandemic's winners, seeing demand surge as shoppers flocked online.
However, shares have continued to plummet since summer 2020 when they peaked above 400p. Its closing share price last night was 137p, and fell further this morning to 110p.
It also warned pandemic related inbound freight cost is estimated to impact EBITDA by approximately £20m in the financial year, the majority of which is in the second half of the year.
Boohoo reported revenues for the three months to November 30 were up 10% to £506.2m.
However continued growth in the UK – which was up 32% on its strong performance last year – masked declines in Europe, the USA, and the rest of the world. Overseas sales account for 40% of Boohoo's revenues, generated £600m in the first nine months of its financial year.