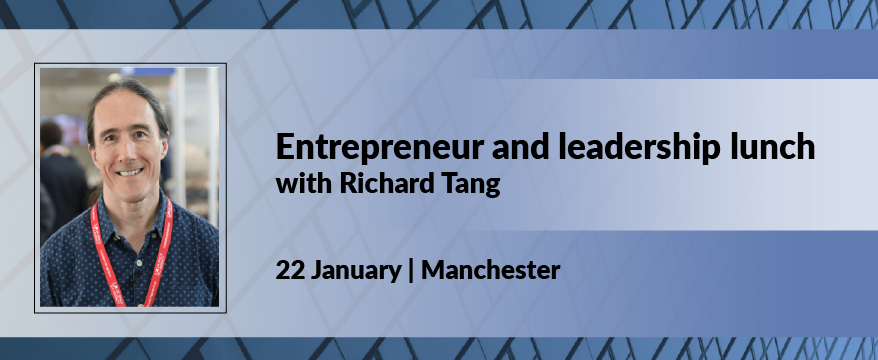 Wednesday
22 January
12pm – 3pm
£40 + VAT
includes a welcome drink and two-course lunch

Merchant Rooms,
18-20 Castle St,
Manchester,
M3 4LZ
Internet pioneer and entrepreneur Richard Tang is to speak at a BusinessDesk.com lunch.
Richard founded Zen Internet, the UK's largest independent telecommunications and technology service provider, after a conversation in the pub with his brother Dan.
The business, which is based in Rochdale, was launched in 1995 with just £5,000 and now has a turnover of £71m and employs 500 staff.
Richard took over his current role as Chairman to dedicate time as the company's brand ambassador. He is now fully focussed on ensuring Zen's ethos underpins every aspect of the service it provides, all whilst taking on the 'Big Four' by making the right decisions for long-term success and sustainability and challenging the bad practices the industry has become renowned for.
And the firm is now looking to expand even further after and securing a £20m financing deal.
Richard has always done things the way he wants to do them and his company is fiercely independent.
He said: "I founded Zen in 1995, at a time when the Internet was a novelty for techies, and setting up an Internet Service Provider (ISP) business could be done fairly easily with a few thousand pounds. 
"Today, the Internet has changed all of our lives in ways we couldn't have imagined back in the mid-nineties. And there's plenty more to come."
He added: "We serve a wide range of customers with a wide range of services, from consumer broadband to complex network and cloud solutions for some of the UK's biggest companies.
"We help tens of thousands of small businesses operate their businesses every day, and also provide critical infrastructure to the public and third sectors.
"We are proud to have built the biggest independent broadband network in the UK, and provide wholesale access to this network through our Wholesale division.
"As our business has evolved, one thing has stayed rock-solid: our most fundamental long-term objectives of "Happy staff", "Happy customers", and "Happy suppliers".
"These objectives reflect my own personal deeply-held values – my belief that people should come first, and money second. I believe the world would be a better place if more organisations operated in this way."
Richard is Zen's sole shareholder and he has made a commitment never to sell the company.
Even after his death he has made provisions to ensure that the values of the company stay intact.