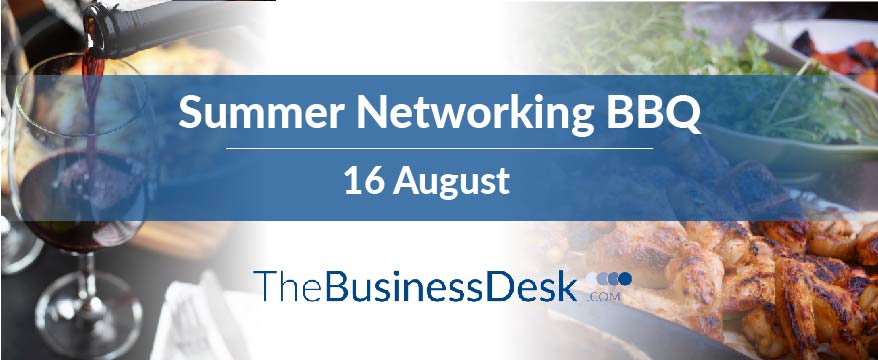 Friday
16 August

12pm – 3pm
£30.00 +VAT
includes a BBQ lunch

Castlefield Rooms
18-20 Castle St Manchester
M3 4LZ
TheBusinessDesk.com is once again holding its annual summer barbecue in central Manchester.
The event is a great chance to get to meet the team at the BusinessDesk.com in a relaxed and informal setting.
And we are delighted that Damian Waters, the North West director of the CBI will come along and say a few words.
Damian is one of the best known business figures in the region and has worked with a wide range of organisations.
Guests will get the chance to network and mingle with the commercial and editorial team at the lunch which is being held this August.
TheBusinessDesk.com has one of the fastest growing online audiences in the sector and has also been busy organising events, conferences and business seminars.
North West editor Michael Ribbeck said: "The last 12 months has been incredibly busy both for the business sector here in the North West and for our team.
"We have seen enormous growth in our audience figures and attendances are on the increase at our events, lunches and seminars.
"The summer barbecue is a great chance to meet the team in a relaxed and informal setting. We look forward to meeting new friends and our regular contacts at what always proves to be a popular event.
"The barbecue is one of our favourite events of the year as it offers a great chance to chat with readers and business leaders and we are thrilled that Damian has agreed to come along and say a few words. It will make the event even more special."
The barbecue is being held at the Castlefield Rooms on Friday, August 16th.
Demand for tickets is expected to be high so people are being advised to book as early as possible.
Damian is a member of the Liverpool City Region Skills Commission, the Centre for Global Eco-Innovation, United Utilities Customer Challenge Board, the Electricity North West CEO Advisory panel and is a member of the Court of Governors of The University of Manchester. 
He has been Vice Chair of the Nuclear Network North and an Advisory Board Member of Gordon Brown's Joint Economic Council for the North West.  For ten years he was Chair of Governors of Britain's largest primary school.
In his spare time Damian runs his own nature photography business; his images and articles have been published in magazines and books worldwide and he is a columnist for magazines in the UK.
To book your tickets click here.