Photography festival returns for 10th year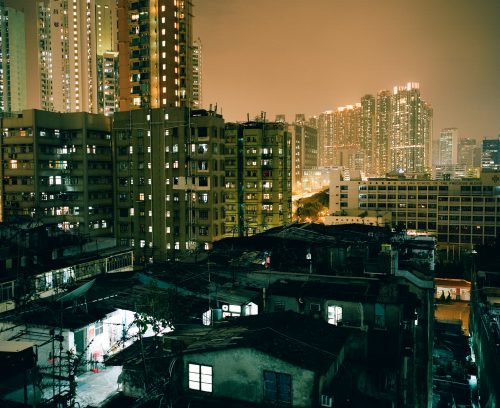 LOOK/17, Liverpool's International Photography Festival, is returning to the city for its 10th year.
The festival, which is the largest photography festival in the North, this year will explore Cities of Exchange from April 7 until May 14. This year's festival, which is taking place at Open Eye Gallery, will feature works from a number of artists based in the UK and Hong Kong, exploring various themes including urbanism, social housing, architecture, commerce and colonialism.
Working with Hong Kong based curator Ying Kwok and in close partnership with Open Eye Gallery, one of the UK's leading photography spaces which this year celebrates its 40th year, the festival is twinning Liverpool and Hong Kong, exhibiting images taken in both cities, each of which are places with a long history of exchange.
Curator Ying Kwok says, "This festival centres on the theme of urbanism and the challenges we face globally and locally. We are living in a shifting world that changes, where interactions take place on a daily basis.
"I believe artists play an important role in inventing their own universe, and re-inject the liveliness into the world we live in. They respond to the world and bring our attention to particular subject matters that are worth thinking through."
LOOK/17 is aiming to make artists and the public see the shared experience and connections are from place to place at the exhibition.
Sarah Fisher, Director of Open Eye Gallery says, "We share billions of photographs of urban life every day via social media. The idea of a specific city, our understanding of how we live in it, its history, people, institutions, icons, challenges and triumphs are all expressed through these photographs we share."
New commissions at LOOK/17 include:
Wo Bik Wong, who lives and works in Hong Kong, is creating a new commission to be exhibited at Open Eye Gallery. One of Hong Kong's leading female photographers, Wo Bik has shown internationally in over 100 exhibitions. Her new work focuses on the Port of Liverpool Building, one of the city's famous Three Graces and formerly the HQ of the Mersey Docks and Harbour Company.
Luke Ching has created a new commission turning a hotel room into a pinhole camera. Room 118, Titanic Hotel, Stanley Dock, Regent Road, Liverpool, L3 0AN focuses on the Tobacco Warehouse opposite, an important site of the city's historical maritime commerce from the regenerated Titanic Hotel.
Derek Man has travelled to China to create a new commission examining social housing and the diversity of homes and habitation. Regularly topping the list of least affordable housing markets, the Hong Kong government embarked on a public housing scheme in the 50s and he will be examining how an exchange of ideas could affect social housing both in Liverpool and Hong Kong.
Alternatively, Yan Preston's new commission Now and Before will be shown at Liverpool ONE. A British-Chinese artist based in West Yorkshire, Preston's work captures the faces of modern China in Liverpool. A digital version of the commission will be shown at the Museum of Liverpool.