Hats off to the North West Business Masters 2017 winners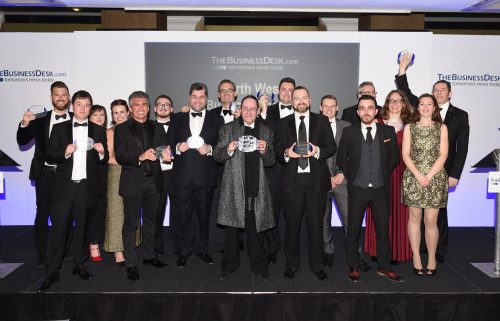 X

Register for free to receive latest news stories direct to your inbox
Register
They came in their best bib and tucker to raise a glass of bubbly and salute the outstanding companies across the region for the North West Business Masters 2017.
Business glitterati turned out in their hundreds for the event at Manchester's iconic Midland Hotel where representatives of shortlisted companies and their leaders turned out to watch the awards ceremony unfolded.
Hosted by TheBusinessDesk.com's North West editor Joanne Birtwistle and Nina Warhust, the BBC's North West political editor, the event was backed by a plethora of major sponsors embedded in the heart of the region's business community.
Birtwistle said: "The Business Masters provide a fantastic platform to showcase the best that North West businesses have to offer.
"Tonight's event has been a fantastic evening and I'd like to thank all shortlisted companies for the amazing work they do, as well as our sponsors, without whom tonight would not have been possible."
The evening fittingly kicked off with the Innovation award, sponsored by KPMG and presented by audit manager Sally Watson to winner Ziferblat.
Ziferblat is a workspace provider which offers pay per minute sitting room, events, co-working and meeting rooms. It's innovative core concept is a communal room where guests are welcome to work, relax, study and treat it like home.
The company employs 54 staff and aims to open 50 branches across the UK and Ireland in the next five years by reinvesting profits into growth.
Other shortlisted companies in the section were Cundall, Evoke Creative, Hello Soda and JMW Solicitors.
Next up was the gong for International Trade, sponsored by Squire Patton Boggs and handed over by partner Matt Ingram.
The winner of this category turned out to be SAMBRO, one of the UK's largest licensed toy manufacturers with its headquarters in Bury and expansive showrooms and offices in Amsterdam and Hong Kong.
SAMBRO works with some of the worlds leading licensing companies, including Disney, Nickelodean, Hasbro MGA and Universal and creates licensed toy ranges across a wide array of categories, such as toys, games, outdoor, novely, bags, stationery and arts and crafts, accessories, inflatables, soft lines and puzzles.
Highly commended in this category was IFB2016 – the International Festival for Business – one of the largest business events staged in the UK in 2016.
It was developed and delivered by Liverpool Vision, Liverpool's Economic Development Unit, and followed on from the success of the inaugural IFB2014 event, which took place as a direct result of recommendations from Lord Heseltine and Sir Terry Leahy that the city should host an international expo.
Other contenders for this award were Crawford Healthcare, Lattimer and Vision Support Services.
Businesses across the board are keen to show their social conscience, and the Contributing to the Community award, sponsored by Influential and presented by director Chris Hulme, recognised this.
The winner proved to be Tunafish Media, a Manchester-based content marketing and media production agency.
The company was founded with the ethos of "producing thought-provoking and innovative work, creating an environment where staff can flourish and give back to the local community".
Tunafish also runs a twice weekly homeless soup kitchen in Manchester city centre, called "Not Just Soup" which sees restaurants (there are more than 30 partners including Living Ventures Group, Neighbourhood and Hawksmoor) provide food to homeless.
Other shortlisted companies were Angel Solutions, EY Foundation, Smart Storage and UKFast.
The Professional Services category was sponsored by TheBusinessDesk.com and presented by commercial director Lee-J Walker.
It went to Manchester-based Kuits Solicitors – trading since 1911 and now with 200 staff.
Key deals the company has been involved in include advising Gary Nevill and Ryan Giggs in agreeing terms for the funding of the development of the £200m St Michael's schme in Manchester as part of a joint venture with Singaporean publicly-listed investment company Rowsley and Beijing Construction and Engineering Group.
The team also advised on a major investment into their Hotel Football project at Old Trafford.
Solely based in Manchester, Kuits is firmly rooted in the city and continues to support and help drive the city's growing economy and national and international profile.
Other shortlisted companies were CVS, Dow Schofield Watts, Grant Thornton and Seneca Partners.
Meanwhile, Pochin's emerged as the winner of the SME category, sponsored by JMW with the award presented by partner Marc Yaffe.
Founded in 1934 as a small joinery business in Manchester by Cedric Pochin, the company has grown over 80 years to become synonymous with North West construction and is one of region's leading commercial property developers.
Through the years, the Pochin family has built a PLC capable of changing the property landscape of the North West while contributing to its communities with high quality projects.
Highly commended in this category proved to be Beech Holdings, founded by Stephen Beech in 2001 when he bought his first buy-to-let property in Manchester.
Beech Holdings now owns £72m of residential housing stock in Greater Manchester and currently has a gross development pipeline of £100m. The business now owns 700 units across 20 buildings in the design, planning or development stage, all being launched over the few years.
The entrepreneur employs 100 people and the company is on course for nearly £40m turnover in the next 12 months.
Other contenders in this category were East Coast Concepts, Smart Storage and Vision Support Services.
At the opposite end of the scale, Abbey Logistics Group carried off the award for the Large Business, sponsored by Manchester Metropolitan University and presented by external relations adviser Michael Taylor.
Liverpool-based Abbey Logistics achieved record sales of £57m last year with the business employing more than 600 staff, operating from nine sites also including Manchester and London.
It has gone from being a niche liquid food logistics provider to becoming one of the UK's largest food ingredients logistics companies as well as diversifying into markets such as construction materials, and non-hazardous products.
Other shortlisted companies were Bright Blue Foods and The Deliver Group.
The Newcomer award, sponsored by Mazars and presented by managing partner Tim Hudson, went to Chester-based Businesscomparison.com.
The winning company was launched in April 2015 following the Competition and Markets Authority's investigation into banking, which recommended a price comparison site for small businesses.
Businesscomparison.com specialises in helping SMEs and SOHOs make money-saving decisions.
It was the brainchild of former employees of leading comparison sites and aims to help new and existing small businesses make the right choices when looking for a bank account, energy supplier, finance and insurance.
Other contenders were Gorilla Accounting, Strategic Analytics, Watch This Space and Ziferblat.
Greater Manchester company Brother UK emerged as the winner of the Employer of the Year award, sponsored by Manchester Metropolitan University and presented by head of business and public engagement Yvonne Rennison.
Based in Tameside for 50 years, Brother has reinvented itself as an employer, including adjusting how it manages, motivates and rewards it people as more millennials enter its workforce.
It tailors its offering for every one of its 190 staff at the head office and in the field and nurtures diversity, an approach which last year led to it becoming the first large business in the UK to attain Investors in People Platinum status – the highest possible accreditation.
Some of the changes Brother has made include "kinetic working" – allowing people to work across different departments and teams; an internal peer-to-peer recognition programme with financial incentives to encourage employees to develop their skills and role in the business; an d coffee mornings hosted by managing director Phil Jones to ensure employees feel engages and consulted about the big decisions in the business.
Highly commended in this category was Liverpool-based educational software company Angel Solutions, which provides online services for schools, local authorities and academy groups.
It has taken on 10 staff in the last year, taking the total to 35, at its circus-themed office in Liverpool's Innovation Centre, complete with a big top and gypsy caravan.
Bolton-based Love Energy Savings was the winner of the Fast Growth Business category, sponsored by EY and presented by partner Paul Devitt.
Established in 2007, Love Energy Savings has gone from strength to strength. A £500,000 funding injection from the Greater Manchdester Loan Fund in 2013, to assist with the Lunch of its innovative energy price comparison engine was followed by a further £4.5m investment by NVM Private Equity in 2014 to aid further organic growth.
The £4.5m is being used to fund its ambitious expansion strategy. 2016 saw the business put plans in place to offer energy price comparison to large energy users, and support its business model, which has saved homes and businesses £86.8m so far on their electricity and gas bills.
Staff headcount has increased from 79 employees to 133 in the last 12 months, with plans for further growth already in action as it brings outsourced services in house.
Other shortlisted companies were Abbey Logistics Group, Barber Barber UK,Dual-Stream and
The Delivery Group.
Last but by no means least, the star gong of the evening – the Ambassador Award – went to the newly-retired former chief executive of Manchester City Council, Sir Howard Bernstein in an award sponsored by TheBusinessDesk.com and presented by Robert Hough CBE DL, director of Peel Holdings.