Medlock gets £11m-plus Premier Inn contracts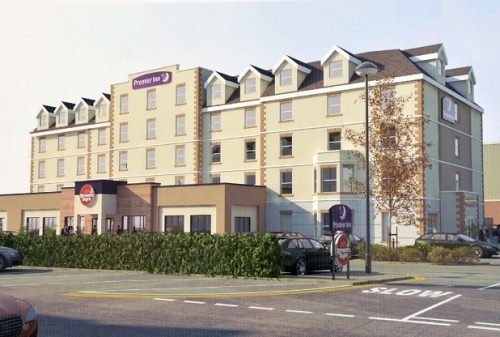 Leisure contractor Medlock FRB has landed projects worth more than £11m to build and fit-out Premier Inn hotels and adjoining restaurants at tourist destinations in the North.
Medlock has begun schemes in Ulverston in the Lake District, Rhyl in north Wales and Bridlington on the east Yorkshire coast for hospitality giant Whitbread.
The contracts further strengthen Medlock's relationship with Whitbread, following a series of Premier Inn and Brewers Fayre projects completed in recent years in locations such as Cockermouth, Penrith, Wirral, Leeds-Bradford Airport, Stafford and the Intu Trafford Centre in Greater Manchester.
The 79-bedroom Premier Inn and adjoining Thyme Restaurant next to the Ulverston Canal are due to be completed in December.
Medlock is scheduled to finish a 70-bedroom hotel and Brewers Fayre restaurant at the Rhyl waterfront development project in January.
The Bridlington scheme, which involves the construction of an 82-bedroom Premier Inn and Brewers Fayre next to a new seafront leisure centre, is also due to be completed in January. The hotel is the first to be built in the resort since 1937. The total value of the three projects is £11.2m.
Medlock project director Dan Lewis said: "We are delighted to further cement our relationship with Whitbread with the award of these contracts. The target for further hotels in the UK is well-documented and presents a tremendous opportunity for Medlock to be part of this expansion.
"We have a strong track record in the successful delivery of previous projects and look forward to achieving outstanding standards of work again to help the Premier Inn brand maintain its position as the country's most popular hotel brand."
Whitbread has 762 Premier Inn hotels in the UK and more than 68,000 rooms in total. The chain expects to add around 4,200 rooms during this financial year and is aiming to grow to around 85,000 by 2020. Further expansion of its joint site restaurants is also planned.