New owners of historic Kirkby Lonsdale inn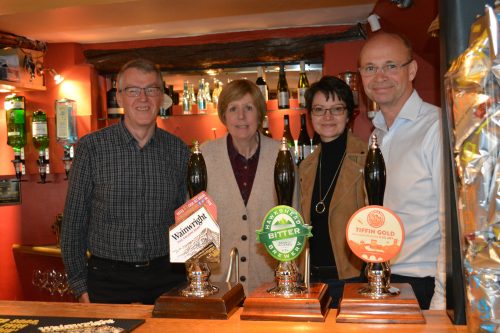 A historic inn that borders Cumbria, Lancashire and Yorkshire, has been acquired by new owners.
The Sun Inn, a five-star inn and restaurant in Kirkby Lonsdale, has been purchased from Mark and Lucy Fuller by experienced hoteliers Jenny and Iain Black who will officially take over on May 8.
The Fullers have been at The Sun Inn since 2006, a period in which it gained five-star status, two AA Rosettes and a host of other food and hospitality awards.
They have described the Blacks as "the perfect custodians" to take over at the 17th century inn. Mark and Iain started the careers together aged 16 working in a Cheshire burger restaurant, both going on to be general managers for Forte Hotels.
Iain and Jenny have worked in large hotels all over the UK, including The Belsfield in Bowness-on-Windermere, where the couple met, and with Forte Hotels and Novotel in locations including Cambridge, Kings Lynn, Newcastle Under Lyme and Manchester.
Mark Fuller said: "When we came to the Sun Inn 11 years ago we started from scratch to create a boutique inn with great rooms and outstanding food and drink. We're incredibly proud of what we've achieved and the great working team we've built.
"If we'd been able to pick two people to take over as new custodians of the Sun Inn, it would have been Iain and Jenny. They have the right experience, acumen and personalities to make a success of this charming and unique property. We'll miss it but we're now looking forward to becoming regulars of the Sun Inn on the 'right' side of the bar."
Iain Black said: "We've always loved Cumbria and have visited hundreds of times, so we're really looking forward to getting started at The Sun Inn. We're committed to achieving helping the Sun Inn achieve the same recognition and success as that enjoyed by Mark and Lucy.
"Kirkby Lonsdale is a real hidden gem and we can't wait to settle in the area and get involved in the community too."
Kendal-based Harrison Drury solicitors advised Mark and Lucy on the sale of the property to Jenny and Iain.
Naomi Fell, director at Harrison Drury solicitors, said: "Mark and Lucy have enjoyed tremendous success over the last 11 years thanks to their entrepreneurial flair and an understanding of their customers. They've worked tirelessly to create a unique and memorable visitor experience at The Sun Inn. I'm sure that success will continue under Jenny and Iain's ownership.