People on the move: Clarion Wealth; Morecrofts Solicitors; Quint Group; CIM; Nothing But Epic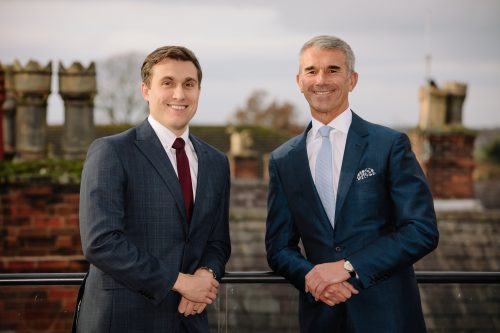 Cheshire-based financial planning company Clarion Wealth has appointed Jonnie Whittle as managing director as it focuses on ensuring long-term success.
Whittle, who first joined the business as a financial planner, will be responsible for supporting the growth of the firm, overseeing staff development and maintaining a high-quality service for all clients.
He will also continue to work with individual clients to develop and implement bespoke financial plans.
During his career, Whittle has gained extensive management experience, having previously worked as managing director of a private equity-backed financial planning practice based in Manchester and London, as well as directing joint ventures with accountants throughout the North West.
The firm's founder Ron Walker will continue to advise individual clients, while also moving into a strategic role, setting the overall vision for Clarion and building relationships with new clients and professionals.
As part of the restructure, former head of paraplanning, Adam Wareing, has been promoted to an adviser role with Clarion now looking to grow its paraplanning team.
Walker said: "As with every strategic decision at Clarion, our clients and the comprehensive service we provide them with always comes first. Jonnie's promotion is a natural fit for the future vision of Clarion ensuring we continue to deliver the same high-quality, personal service to clients that I have focused on over the last 30 years.
"With Jonnie managing the day to day running of the firm, I will have more opportunity to concentrate on the long-term vision for Clarion, ensuring we're in a good position to continue to provide true lifelong financial planning for many years to come."
Whittle added: "Under Ron's guidance, the firm has established itself as a life-long partner for many successful business owners and I look forward to continuing this as we move in to 2018 in a stronger position than ever before.
"Clarion's greatest asset is the amount of emphasis that is placed on the interaction between personal and professional affairs, it is this unique focus that has allowed us to go from strength to strength and this is something I will continue to emphasise."
Based in Alderley Edge, Clarion is a boutique wealth planning firm that specialises in developing and implementing bespoke long-term plans for successful individuals and their families, particularly business owners intending to exit or capitalise their business.
::
Morecrofts Solicitors has made several key additions to its team across Merseyside in the past three months – and the vast majority are women.
Of the 13 new faces to have arrived at the firm, 12 are female, while a further five trainee solicitors have taken their seats in new departments during the same period.
Among the new arrivals is solicitor Kim Young, a family law specialist with more than 10 years' experience. She is based at the firm's Allerton Road office and is also a qualified mediator with FMA, as well as being a member of Resolution, the Family Law Committee and the Association of Women Lawyers.
Kate McEvoy and Cathryn McCorkindale have been recruited as paralegals in the private client team based in Crosby, while Hollie Randles, Laura Bond and Ella Neale have taken similar roles in the family law department on the Wirral.
Three further paralegals have also arrived at the firm: Lois Williams, Emma Cafferty and Melissa Sedley will be based in Liverpool, Crosby and Allerton, respectively.
Other new recruits include experienced legal support assistants Linda Ryder, Nikki McMahon and Kerry Simmons, while Liam Connelly has also joined the administration team in Liverpool city centre.
Meanwhile, five trainee solicitors have transferred into new departmental seats. Sarah Day is now part of the employment law and HR team, Rafael Donovan is in a property law seat, Claire Edwards has moved to the litigation department and Kelly Faulkner and Eleanor Slater are now in the family law team.
Alison Lobb, managing partner at Morecrofts Solicitors, said: "We have seen strong client and revenue growth across a number of departments in the second quarter of this year, resulting in the need to recruit in several positions.
"Morecrofts is widely recognised as a firm that allows female lawyers to advance their careers – indeed, nine of our 14 partners are women – and we are proud to promote gender equality. This means we receive a high proportion of applications from female candidates, who are keen to work in a positive environment, which in turn tends to be reflected in the dynamic of our team.
"It was simply an unconscious coincidence that so many of our latest recruits have been female and our rigid selection process ensures we employ the right candidate for the role, regardless of gender, age, ethnicity or any other factors."
::
Global fintech firm Quint Group has announced the appointment of Anuj Bhatnagar as chief financial officer.
Based at the group's Cheshire headquarters as well as its offices in London, Bhatnagar will be responsible for delivering Quint's financial strategy and oversight across the group's global operations. His appointment is effective immediately.
Bhatnagar joins Quint from IGT Plc in London, the world's largest operator and technology provider to the gaming industry, where he served as chief financial of their International Division. In that role, he managed IGT's finance function across the EMEA, Latin America, Asia and ANZ and was responsible for $1bn of revenues.
Prior to IGT, Bhatnagar was chief financial of Eli Lilly & Co, Canada, where he managed and restructured the business, shaping the culture to drive growth.
Before his time in Toronto, Bhatnagar was based in Vienna, Austria where he served as Eli Lilly & Co's Area director of finance to Africa, Middle East, Russia & CIS. He has also held similar positions in Moscow, Cairo and Dubai.
Bhatnagar is a graduate of the University of New Delhi, India, and received an MBA from the IMD, in Lausanne, Switzerland and is a chartered accountant.
Founder and chief executive of Quint, Greg Cox, said: "I'm very excited to welcome Anuj to the company. Given our global expansion plans and current growth profile, I believe Anuj's unique experience and expertise will add further significant value to the group continuing to allow us to execute on our strategy and fulfil our potential."
Bhatnagar added: "I am thrilled to work with Greg and the team. Quint Group has a rare combination of technology, innovation and passion that is reshaping the consumer finance market. I'm honoured to be a part of that journey."
::
The Chartered Institute of Marketing has appointed Chris Ashton, a director at Time54 Marketing, as its new construction sector ambassador for the North West.
Ashton has more than 15 years' experience in marketing and has a deep-rooted knowledge of the key drivers of the construction sector. Having worked client-side for most of his career, Ashton formed his own agency in 2015, Time54 Marketing, where he helps companies in the construction sector to achieve their business goals by developing effective marketing strategies, lead generation tools and specification selling.
He said: "I am happy to be given the opportunity to promote the CIM within the construction sector.
"The last 15 years has seen a significantly positive shift in attitudes and confidence towards marketing initiatives for construction companies. By adopting new and emerging technologies, embracing ever-changing cultures and attitudes, and harnessing a more collaborative approach to working, it is an exciting time for companies in the construction sector to thrive in a challenging economy."
Diane Earles, network manager for CIM, said: "We're excited to appoint Chris and feel his passion, experience and knowledge of the construction industry will help to raise the profile of the CIM within the sector."
::
Manchester digital agency Nothing But Epic has appointed Laura Murphy as head of operations to support its rapidly growing business following a run of new account wins and existing client successes.
Murphy, who joins from BetFred, will help the team to deliver greater operational efficiencies and to manage and oversee workflow.
The appointment of Murphy comes as the Epic team has picked up new contracts to deliver digital marketing campaigns for brands including Remington, Russell Hobbs and Hermes.
Managing director Craig Tomkins said: "The agency has grown from a team of 2 to 10 in just 3 short years.
"We now work with a portfolio of high-profile, blue-chip clients as well as smaller e-commerce SME businesses.
"Laura will help us to manage our workload more efficiently and profitably as we continue to focus on achieving growth and delivering excellence.
"She will manage the team and be responsible for implementing a series of team-building events and training initiatives to ensure we continue to get the very best from the incredible people we employ."
Murphy said: "Craig and his business partner Mike have done an amazing job in getting Nothing But Epic up and running and I am really looking forward to helping them take the agency to the next level."
Tomkins added: "We pride ourselves on establishing long-term, deeply embedded relationships with all of our clients, many of whom have been with us since day one. They remain just as important as our new wins and we celebrate their on-going successes too."