People on the move: Primas Law; TheCityUK; KPMG; CIM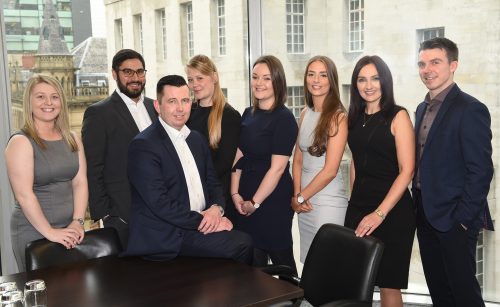 Boutique North West law firm Primas Law has strengthened its Manchester-based real estate team with a flurry of new appointments.
Property lawyers Nataliya Healey, Awais Alam and Tim Dillon have all joined the firm. Lauren Steel and Sarah Fielding have been recruited as trainee solicitors, while Victoria Shaw has joined the executive support team.
Simon Baxter, head of real estate at Primas Law, said: "We've seen major growth across the real estate side of our business in the last 12-months.
"This increase is coming from a variety of sectors within the property market, but our niche expertise in the development sector has seen exceptional growth.
"Nataliya, Awais and Tim are experienced lawyers and their recruitment allows us to meet the demand we're seeing now, whilst maintaining the firm's commitment to quality. We're also building for the future with our investment in new trainees."
Healey joins Primas Law as a senior associate after working at Addleshaw Goddard, and latterly having spent more than three years with Croftons Solicitors in Manchester.
Solicitor Awais joins the firm after previous roles with Hill Dickinson, Squire Patton Boggs and DWF.
Dillon also joins as a solicitor after a spell working for a major law firm in Vancouver, Canada.
There are now eight staff based full-time in the real estate team at Primas Law's Manchester office.
The firm also has offices in Cheshire and London. It focuses purely on real estate, corporate and commercial work.
The firm advises a wide range of clients in the property sector including landlords and tenants, developers, funders, property investors and housing associations.
::
TheCityUK has appointed its first ever city chair for Greater Manchester.
Richard Bell, practice senior partner for Deloitte in the North West, will be a key figurehead for TheCityUK, championing the industry's considerable local contribution and progressing opportunities for greater collaboration and engagement across the North West.
Miles Celic, chief executive, TheCityUK, said: "Our industry is a major employer and contributor to the economy of towns and cities right across the country, with more than two thirds of the 2.2 million people employed nationally based outside London. The appointment of TheCityUK city chair in Manchester will support our work to champion the industry across the city and wider North West region and help build partnership opportunities to ensure the industry's success into the future."
Bell said: "Greater Manchester has always had a huge influence on the financial and professional services sector. With a thriving private equity community and boisterous alternative finance market, it has acted as a hub for the industry in recent years.
"I'm excited and honoured to sit as the first chair for Greater Manchester. Establishing partnerships and boosting collaboration in the region will be a priority, whilst we will look to offer support to the local businesses and further strengthen Greater Manchester's position as it continues to challenge the capital."
TheCityUK is appointing city chairs across some of the UK's most prominent financial and related professional centres such as Belfast, Birmingham, Bristol, Cardiff, Leeds, Manchester and Newcastle.
These chairs will support the organisation's enhanced programme of work to promote the strength of the industry and the high-value, high-productivity jobs the industry creates across the whole of the UK.
::
KPMG has appointed James Hillon as a director in its general insurance team as it expands its product pricing capabilities.
Hillon joins from Co-op Insurance where he spent 20 years in a variety of roles, most recently as products, pricing & propositions director.
His role at KPMG is a new one, created to meet increasing client demand for pricing advisory. Hillon will be based in the Manchester office.
David Brown, partner KPMG said: "It's with an eye on the future that we're strengthening our general insurance pricing team. General insurers are at a crucial stage.
"For years they have struggled with increasing pressure on pricing, but now we are starting to see ways to turn those challenges into opportunities.
"James's industry experience makes him uniquely qualified to help clients recognise and realise such opportunities. The firms that will thrive going forward are the ones that adapt quickly to new technologies, while keeping their end customers at the centre of what they do.
"Placing James in Manchester means we are strengthening our team in a region where we anticipate considerable growth and client demand in part reflecting the success of the city in establishing itself as a leader in the digital and fintech sectors."
Hillon added: "Not only does KPMG's consultancy team have a great balance of technical and practical expertise, but it is also forward looking.
" I'm especially interested in working with the team to fully understand and utilise what our strength in data science can offer our clients. I'm excited to be joining, and look forward to extending our client offerings."
::
The Chartered Institute of Marketing (CIM) has unveiled Aaron Hayes as its new creative ambassador for the North West.
Hayes is the business development manager & marketing innovator at Kode Digital.
He said: "Now is an exciting time to be in marketing and the creative sector is no exception. For me, the appointment is about giving back and moving marketing in the North West forward by working with the other board members to effect change. I am excited to help people get into marketing and get more from marketing in the North West as well as assisting CIM members in their endeavors."
Diane Earles, Network Manager for CIM, said: "We are really looking forward to working with Aaron, who is passionate about supporting the strong creative marketing sector we have in the North West."