New vision for renown Salford apartment block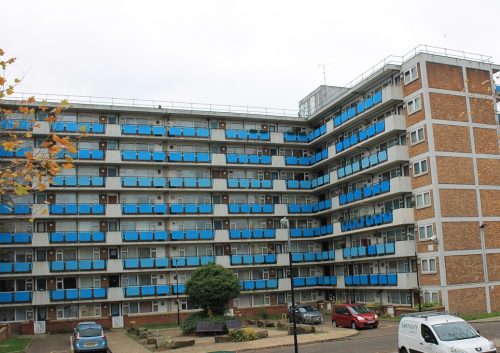 A bold new vision has been announced for an iconic apartment block in Salford.
Housing association Salix Homes has been working alongside residents at Canon Green Court in Trinity to develop proposals to modernise the 1960s building.
The eight-storey building on Canon Green Drive dominates the Salford skyline with its distinctive blue balconies; and has provided the backdrop for several television dramas including ITV's Prey and Channel 4's No Offence.
Now Salix Homes is planning to renovate the building and create modern, attractive, energy efficient homes fit for the future.
Salix Homes, which owns more than 8,300 homes across Salford, has been consulting with residents on initial designs of how the building could look after undergoing the ambitious regeneration project, which includes the development of an additional 100-unit apartment block on the expansive site.
Sue Sutton, executive director of operations at Salix Homes, said: "We have been working very closely with residents to ensure they're involved in this much-needed improvement work every step of the way.
"This is an exciting time for Salix Homes and for our residents. We've listened to what our residents want and we will continue to work closely together to develop proposals that benefit everyone and creates modern, energy efficient homes we can all be proud of."
The proposals will transform the appearance and living facilities of the block and includes the construction of an additional 100 units on the site to help fund the essential improvement work residents have been calling for.
The initial designs propose an additional multi-storey apartment block is built within the grounds, while the current block will undergo a major facelift including new kitchens, bathrooms, heating systems and external wall insulation.
The Salford-based housing provider promised to carry out the essential investment work at Canon Green Court when tenants voted to transfer their homes from Salford Council to the ownership of Salix Homes in 2015.
Ms Sutton added: "We made a promise to our tenants during the stock transfer that we would carry out a significant investment project at Canon Green Court, and we are 100% committed to delivering that promise.
"Not only will our ambitious plans transform the homes and hopefully the lives of the current residents of Canon Green Court, but will also provide the opportunity for Salix Homes to build around 100 desperately needed new homes for local people."
Salix Homes is currently considering possible tenure options for the new apartment block.
The final proposals for Canon Green Court are currently being finalised and will be submitted to Salford Council for planning permission after they've been given the green light by residents and the Salix Homes Board.
It is hoped that work will begin on site later this year and will be completed in 2020.