Adtech company gets multi-million pound investment for US expansion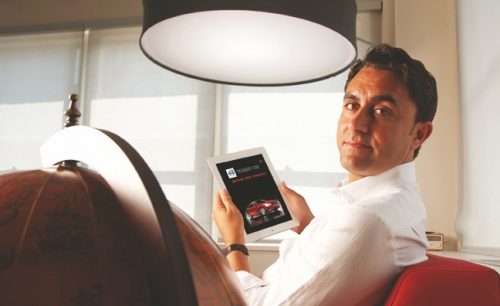 Salford Quays-based PowerLinks Media has received an investment of several million pounds from Foresight VCT, to drive expansion of its innovative advertising technology in the US.
The deal completes a larger round of funding totalling £5.58m with additional participation from angel investors and PowerLinks management.
PowerLinks is a software platform, which automates the buying and selling of personally relevant and user-friendly "native" advertising.
It is emerging as a major player in a new generation of advertising platforms, connecting advertisers and publishers in a data-rich marketplace, which processes over 6 billion auctions each day.
Advertisements are bought and sold in real-time, based on precisely defined customer interest profiles, which are augmented by PowerLinks unique "Personal Relevance" data.
Unlike traditional digital advertisements, PowerLinks ads are visually styled in real-time to align with the surrounding webpage or mobile app, thereby delivering a non-intrusive, "native" user experience.
The investment follows a year of success and expansion, which has seen PowerLinks marketplace surpass 4,000 advertising campaigns from 140 connected advertisers, driving revenue growth of 100%-plus year-on-year.
PowerLinks has also strengthened the relationship with its advertising partner Microsoft, graduating Cohort 7 of the Microsoft Accelerator program for Series A start-ups.
The capital injection is intended to accelerate PowerLinks' expansion in the US, with planned additions across the sales, client services and technology teams.
Thecompany will also partner with global customers to roll out support in dozens of new markets, having recently expanded in Amsterdam and Berlin.
As part of Foresight's investment, PowerLinks has appointed Alex Rahaman as chairman and Mickey Christodoulides as finance director.
Rahaman is an experienced AdTech entrepreneur who most recently grew StrikeAd, the VC- backed mobile programmatic platform he founded, until its sale to Sizmek Inc.
Christodoulides has 17 years' experience of building best practice finance departments, eight of which have been within adtech and media companies.
He was the group financial controller for Unruly Media, where he was heavily involved in the company's £114m sale to News Corp, the publishing giant owned by Rupert Murdoch.
The investment in PowerLinks marked the 14th deal for Foresight's private equity team in 2017.
John Cordrey, investment manager, Foresight, said: "PowerLinks represents an opportunity to back a high growth business, operating in an exciting segment of the fast growing AdTech sector, with a strong management team and well invested platform."
PowerLinks chief executive Kevin Flood said: "PowerLinks is poised to drive exponential growth for our customers, by meeting the challenge of automating relevant, personalised advertising to busy consumers who are overwhelmed with choice. This investment will accelerate our expansion and innovation plans."
Rahaman said: "Programmatic native advertising is at a tipping point and PowerLinks is extremely well placed to take advantage. I have been very impressed with Kevin and the team and how they have innovated in a competitive sector. It will be an honour to become chairman of this exciting company, and I look forward to it continuing to deliver on its strategy for growth."
Advisers on the deal were RW Blears (legal); WY Partners (financial due diligence); RPL (commercial due diligence); Intuitus Advisory (technology due diligence) and Catalysis Advisory (management due diligence).