Bakery co-operative restructures to offer members a slice of its success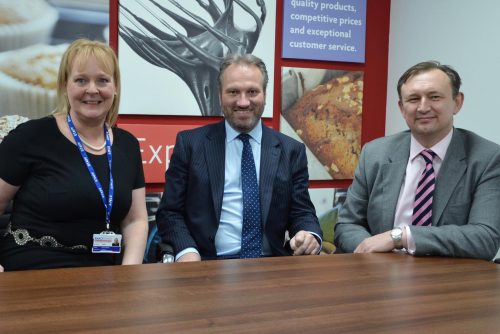 A North West bakery co-operative is aiming to attract new shareholders to raise capital to fund further expansion and reinforce its ethos of "by bakers for bakers".
Preston-based BAKO North Western Group was founded more than 50 years ago as a regional buying co-operative and shares are still held by its customers.
The group has grown significantly over the last five years. In 2013, it acquired BAKO South Eastern and BAKO North East & Scotland in 2015. Turnover has doubled from £66m in 2014 to £132m last year. The group employs 370 employees.
Today, through its headquarters in Preston and subsidiaries in Durham, Wimbledon and Norwich, the group supplies bakery ingredients and food service products to bakers, butchers, food manufacturers, catering companies, schools, restaurants and coffee shops across the UK. Around 80% of its sales are now to non-shareholder customers.
While the group has experienced huge growth in recent years, it has also seen a decline in its shareholder membership.
BAKO instructed the corporate team at Pannone Corporate to help overhaul its capital structure with a view to attracting new shareholders to invest in the group.
Dianne Walker, non-executive director at BAKO, said: "We decided to bring the share structure up to date which will not only enable the group to raise external capital to fund further growth, but make it an attractive proposition to new shareholders.
"The change recognises the investment by the current shareholders by ring-fencing their share value in a separate class of shares.''
With the appointment of Mike Tully as group chief executive in November 2017, the new shareholders will see a new strategy for delivering growth across the group.
Bako chair Joe Hall said: "We will be approaching existing and new customers to invite them to participate in share-holding through a new share issue later in 2018. The move will also allow us to grow our shareholder base and increase sales while preserving the value of the stake held by existing shareholders, as well as our co-operative ethos of – 'by bakers for bakers'."
Benefits to shareholders include competitive pricing, rebates and access to BAKO products and training.
Tim Hamilton, corporate partner at Pannone Corporate, said: "BAKO has an ambitious strategy for delivering growth and the new capital structure will make investing in the group an attractive proposition to new and existing shareholders."