Manchester firm Hero Cycles showcases 'e-bikes' to UK and Indian Prime Ministers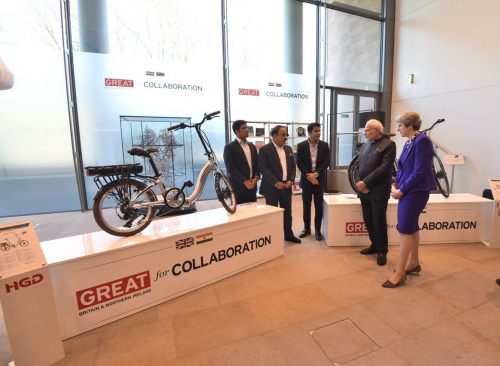 Manchester-based Indian-owned bike manufacturer Hero Cycles has presented its electric 'e -bike' range to the Indian and British Prime Ministers, Narendra Modi and Theresa May, during the Commonwealth Summit in London.
The Prime Ministers met with Hero's chairman and managing director Pankaj Munjal during a visit to the Francis Crick Institute in London and were shown its Lectro bike range.
Hero Cycles claims to be the biggest bike manufacturer in the world by volume and became one of the most high profile Indian companies in the UK when it bought Manchester-based bike company Avocet Sports in 2015.
In January 2017 Hero unveiled a new £2m 'global design centre' in Manchester near the National Velodrome, the home of British cycling.
Manchester beat competition from Amsterdam, Copenhagen and Berlin to host the design centre.
Avocet Sports chief executive Sreeram Venkateswaran said Mr Munjal was able to explain to the Prime Ministers how Hero is fusing UK and Indian expertise.
"We were immensely proud to able to tell the Prime Ministers how Hero is in the vanguard of future UK India trade relations," he said.
"We have put the UK at the very centre of our growth ambitions by buying Avocet and investing in the new global design centre in Manchester.
"We believe the UK is the natural partner for Indian manufacturers where we can share knowledge and learning.
"Our Manchester design centre will lead innovation of our bike ranges which will then be built at our factories in India and around the world.
"This follows closely Mr Modi's 'Make in India' campaign.
"Hero is following other Indian companies in investing in British companies with heritage brands, Jaguar Land Rover and Royal Enfield.
Avocet operated the Viking and Ryedale bike brands which we are keen to recalibrate for future generations starting with our new brand launch in May."
Mr Venkateswaran said showcasing Hero's Lectro electric bike was especially important: "Hero is committed to using cycling as a force for good.
"Our Lectro e-bikes range can help cut carbon emissions and take cars off the road. In addition, recent studies have shown the enormous health benefits of cycling improving fitness and immune systems, particularly among older people."
Hero Cycles will launch its new range of British-designed bikes at a special ceremony at Old Trafford football ground on May 3.
Tim Newns chief executive of Manchester inward investment agency Midas, said: "India is a key market for Greater Manchester, which for the last two years has been running the campaign 'Make in India, Innovate in Manchester' and Hero Cycles' creation of its Global Development Centre in Manchester epitomises the campaign's aim.
"The idea of the campaign is to support India's 'Make in India' policy, whilst leveraging the immense innovation strengths of Greater Manchester and the wider North, which can help drive growth for significant global Indian companies such as Hero.
"The city remains highly attractive to investors due to its world-leading research specialisms and talented workforce, but also its connectivity to other global market places.
"The Lectro Bike is an exciting new product that will, I am sure, be a great global hit, but it will also help to move Manchester towards its goal of being a green city."