People on the Move: Carroll Build; Sports Resolutions; Glenbrook; Ludlow; Jones Homes; Vincents Solicitors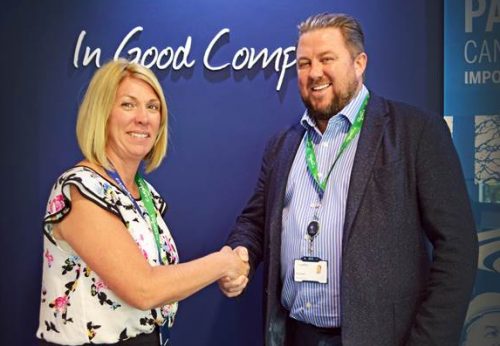 Merseyside company Carroll Build has brought the award-winning industry expert, Alyson Seddon, into its fold.
Her role, as head of construction with the Bootle-based construction firm, has been created to support the increasing expansion of Carroll Build, which is part of the parent company, The Carroll Group.
Her first-hand approach will support the growth of Carroll Build's new housing and extra-care housing developments. Her pre-commencement experience will play a vital role in ensuring the high quality standards Carroll Build says it is known for.
Originally from Liverpool, Alyson's 22 years of extensive construction experience has taken her up the career ladder from trainee site engineer all the way to head of technical and design at Keepmoat.
She is considered an inspiration to women working in the construction industry, earning praise for her work in developing several complicated school projects which won her the prestigious title of 'Women in Construction: Project Manager of the Year' in 2013.
Now working as Carroll Build's new head of construction, her proven track record across all sectors, including industrial, commercial, residential and education, will help guide Carroll Build ahead of the competition.
Ms Seddon said "I'm thrilled to be joining a well-established construction company like Carroll Build. I enjoy the challenge and the commitment required to excel in this industry and I'm looking forward to developing their new build projects and continuing their expansion plans for the future."
Terry Carroll, director of The Carroll Group, said, "We are very pleased to welcome Alyson into Carroll Build and we are excited about the innovation and expertise she will bring to the new post."
::
Sports lawyer Mark Hovall has once again been appointed by Sports Resolutions to sit on its sports tribunal panel for a further three years.
Mr Hovell, who heads the sports law team from the Manchester office of Mills & Reeve, has also been accredited by Sports Resolutions to sit on its National Anti-Doping Panel.
London-based Sports Resolutions is the independent dispute resolution service for sport in the UK. It offers arbitration, mediation and panel appointment services.
Mr Hovell, who is also an arbitrator for the international Court of Arbitration for Sport, and arbitrated at the 2016 Olympic Games in Rio, said: "I am delighted to be reappointed the panel. The appointments demonstrate our increasing role in the regulation of sport on a national and international level."
::
Property development and investment company Glenbrook has announced the appointment of Daniel Roberts as new senior project manager.
Mr Roberts joins the Manchester-based company from Select Property Group, now Vita Group.
Prior to this, he was at Rider Levett Bucknall for more than four years.
Working with projects director, Stuart McCrone, he will be responsible for the management and delivery of various major development projects across the country including The Trilogy in Manchester and Erie Basin in MediaCityUK that, together, will see the completion of more than 500 apartments in the next 18 months.
Speaking about the decision to join Glenbrook, he said: "This is an exciting opportunity to join a dynamic and highly credible developer during a period of planned growth.
"Glenbrook has an excellent track record from the acquisition of sites through to project delivery and I'm looking forward to working on the diverse pipeline of schemes that are coming forward."
Stuart McCrone, projects director at Glenbrook, added: "With over 2,000 apartments now on-site or in design and actively looking for more development opportunities around the country, it is imperative that we have a strong team with the ability to manage and deliver complex projects.
"Already at a senior level, Daniel is a great addition to the Glenbrook team."
::
North West wealth management firm, Ludlow Wealth Management Group, has strengthened its executive team with the appointment of Rob Brown as its first chief operating officer.
He joins the firm from RBS where he spent five years, latterly as the quality and development director at Direct Mortgages and was responsible for the quality of advice and supervision across three sites in Birmingham, Norwich and Greenock with its 380 telephony mortgage advisers.
Before his director role he was the bank's regional quality and development manager in the north of England responsible for more than 100 branch-based mortgage advisers.
Prior to RBS he worked for Barclays Wealth for seven years in senior regulated leadership roles in estate and trusts, corporate and personal financial planning, premier relationship banking and mortgage businesses.
Preceding Barclays, he had been at Santander for 14 years in senior regulated roles within its wealth, financial planning and mortgages divisions.
Ludlow chief executive Ian Hemingway said: "Rob fits perfectly into the business. He brings with him over 25 years' experience in senior roles in the financial services sector, and it's this knowledge that will prove important to Ludlow as the executive team looks to develop the business safely and efficiently.
"As the business grows in the coming months and years we need a strong, dynamic but pragmatic executive team. This team will ensure the business stays true to its credo and its growth doesn't detract from what is at the core of the firm, and that's looking after our clients."
Mr Brown added: "When I was approached late last year to join the firm, and having met the people who work here, this felt like too good an opportunity to miss out on – Ludlow has a great reputation in the financial services sector and its people are passionate about what it does."
Ludlow has offices in Preston, Lytham, Blackburn, Southport, Liverpool and Edinburgh.
::
Housebuilder Jones Homes has appointed Ralph Bacon as the new regional director for its Lancashire office.
With extensive experience in the industry, the Cheshire-based business says he is well qualified for his new role. Over the years he has held several senior positions for national housebuilders where he was construction and commercial director.
As regional director he will be responsible for the day-to-day management of the Jones Homes office in Lancashire and the strategic development of the regional business to ensure that it meets its growth and expansion objectives.
Working with the team at the regional office in Lytham St Annes, as well as the directors at the head office in Alderley Edge, he will oversee all aspects of the business from land acquisition and planning to the build programme, sales and customer care.
His first projects for Jones Homes Lancashire include the launch of Moorfield Park, a brand new development in Poulton-Le-Fylde. He will also take the lead and oversee the imminent launch of the prestigious Stonecross Meadows in Kendal, Jones Homes' first development in Cumbria.
He said: "I am looking forward to working with the company which has an exceptional reputation for product quality and customer care. As a five-star rated housebuilder, Jones Homes is an exemplary business to be involved with and I hope to play an integral part in driving forward its future expansion aims and growth."
Managing director, Gary Hardy, added: "I would like to welcome Ralph to the team. With his background in the industry he has expansive knowledge and the experience to successfully lead the business in the Lancashire region."
::
Vincents Solicitors has expanded its highly-specialised childcare team following the appointment of Sarah Davis to the children panel.
Ms Davis, a family solicitor at Vincents, has received the Law Society Children Law Accreditation following a rigorous qualification process.
Only accredited children panel members are able to represent minors.
Panel members are specialists in dealing with custody, adoption and child protection matters, and demonstrate sensitivity to the particular needs of clients requiring support in these areas.
Ms Davis, who already has eight years' experience in family law, said: "This is such a sensitive and specialist area of the law, so it is only right that those advocating on behalf of children have additional qualifications.
"It was a tough process but necessary in order for me to be able to take on such important cases. I am truly passionate about helping children and making sure we get the very best results for them at, what is clearly, a very difficult time in their lives."
She now joins Val Shaw and Allan Pickup as the firm's accredited panel members, within the nine-strong family law department.
Ms Davis will now be able to provide services direct to Cafcass (the Children and Family Court Advisory and Support Service) which looks after the interests of children involved in family proceedings and provides guardians to those considered to be at risk.
The team also supports parents seeking to regain custody, assisting them with making the changes and accessing the support they need to bring families back together.
Mark Mosley, head of family law at Vincents, congratulated Ms Davis on her appointment, saying: "This is an exceptional achievement and the whole team is extremely proud of Sarah.
"She is an ideal advocate for children and their families, combining compassion with expert knowledge and experience to help resolve cases in the most sensitive and positive manner possible under the circumstances."