People on the Move: Forward Role; CISI; AA Projects; Black Cat Building Consultancy; Chad Harrison International; Big Brand Ideas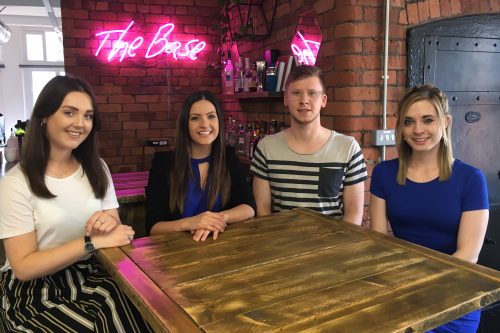 National marketing, digital and IT recruiter Forward Role has boosted its award-winning team with the appointment of Emma Allison as the firm's new head of marketing.
Experienced in the recruitment industry, Emma joins Forward Role's growing Manchester-based team after leaving app developer Mapway, where she worked as marketing manager for two years.
Before that she spent three years working across a number of client-facing brands in the marketing department at a leading UK recruitment group.
Joining Emma at Forward Role's city centre base to expand its IT and ecommerce divisions are three new recruitment consultants.
Vicky Walker joins as a consultant in the IT department, Aimée Buchan will boost the e-commerce team, and Zac Donlon adds to the business's IT contract capability.
The new hires take the Forward Role team to 34, making it one of the largest specialist marketing & digital recruiters in the north of England and a major player on the national stage.
Forward Role founder and managing director Steve Thompson said: "I'm delighted to welcome four more Forward Rollers to our growing family.
"They all bring a mix of extremely relevant commercial skills to the business and I'm confident they will play a big part in what's shaping up to be another record-breaking year for us.
"We're thrilled to have appointed Emma to such an important role within our marketing team. It's a really exciting time for the business as we look to launch a new brand and website in the middle of the year and she will play a key part in delivering these projects."
Emma, who is from Eccles, said: "Forward Role has a fantastic reputation in the industry as both a brilliant recruitment consultancy, serving some of the region's biggest businesses, and a great place to work.
"Steve and the team have achieved so much and I can't wait to get started and play a role in driving the business on to even greater heights."
::
The Chartered Institute for Securities & Investment (CISI) has appointed Louise McEveley, Chartered MCSI, as president of CISI's Liverpool branch.
The CISI is the professional body for those working in or looking to establish a career in the financial planning, wealth management and capital markets professions.
It has a network of 23 branch committees throughout the UK whose primary role is to support the provision of continuing professional development opportunities, social and networking events for CISI members.
Louise has four years' experience on the CISI Liverpool branch committee and more than 13 years' experience in the financial services profession.
She is a vice president at BNY Mellon's Pershing Limited with responsibility for the ongoing optimisation of the operations function.
Based in Liverpool, where Pershing has an office of more than 200 employees, Louise has worked at the company since 2005.
She takes over the role from outgoing president James Charlton, Chartered FCSI. On her appointment she said: "I am honoured to be taking up this role and continue the legacy built up by James.
"Under his guidance the Liverpool branch has become a pioneer committee for its work with local schools, colleges and firms."
James Charlton said: "The Liverpool education programme has gone from strength to strength and I am delighted to have played some part in nurturing the region's next generation of talented investment professionals."
Richard Bennett, CISI regional director, added: "I would like to thank outgoing president James Charlton for his excellent leadership. We look forward to supporting Louise with her plans for the membership during her two-year term."
::
Management and property consultant AA Projects is pleased to announce the recent appointments of John Blomeley, Stephen Niels Jacobsen and Karen Sandford as divisional directors.
Managing director Kenneth Wood said: "This trio of appointments demonstrates the ambition of the business and our direction of travel. As we continue to grow our client base I have no doubt that they will drive us forward in 2018 and well beyond."
John has more than 30 years' experience as a building surveyor and has undertaken a range of building surveying, professional services and project management duties for clients' including Boots, Standard Life and West Yorkshire Fire & Rescue Service.
For the past 10 years he has worked at Watts Group Limited.
Stephen joins the business from Currie and Brown, where he led on the delivery of The Halle Place food quarter at Manchester Arndale and was involved in the delivery of Liverpool Shopping Park, Europe's largest retail park.
Karen worked for almost 20 years in Leeds in cost management for Rex Procter & Partners. She has been involved in various commercial and regeneration projects with clients such as Muse Developments and NewRiver REIT, together with retail clients such as Wm Morrison Supermarkets.
::
Alex Baldwin, formerly of Workman LLP, has joined Black Cat Building Consultancy as its newest director in the Manchester office, alongside his brother, Marek Baldwin.
He brings 11 years' of experience and said: "Black Cat already have a reputation in the market for their approach to building surveying. Marek and the team are involved in loads of interesting projects around the UK and the decision to join them was an easy one.
"The ethos of Black Cat is to work collaboratively with both their clients and as one cohesive team, this is what drew my attention to them and in the brief time I have been here it is definitely a winning formula and one which I am proud to now be a part of."
Stephen Barnes, director at Black Cat Building Consultancy, said, "Alex is a great addition to our Manchester office and will help us both strengthen the team and provide further support to the large projects we have been appointed upon within the last few months.
"His enthusiasm for his work and the way he has embraced our more entrepreneurial approach to building consultancy makes him a perfect fit for us."
::
Chad Harrison International, the executive search firm, has announced the launch of its global technology division, a new sector within the firm.
Comprising a dedicated team and headed by experienced executive search professional Alison Smith, the company is looking to take a foothold in the sector.
The division brings together the expertise of numerous CHI consultants with significant experience and diverse perspectives.
With backgrounds in pharmaceutical, life sciences and print technologies, they bring a unique blend of experience of placing technology profiles within these sectors.
The team's expertise has already helped CHI successfully establish its divisions within packaging & print, mining & metals, pharmaceutical & life sciences and the built environment.
This experience is now set to be utilised in the pioneering technology industry. Practice director Alison Smith has joined the Liverpool company to oversee the division.
With more than 17 years in the technology sector, placing technical specialists, executive and board level candidates globally, she brings a wealth of experience.
"Our clients today face unprecedented challenges as the technology sector continues to expand rapidly," she said.
"Never before have technical specialists been more important, which reflects new and difficult challenges for executives, board members and key stakeholders.
"This, coupled with significant transformation driven by volatility and complexity in global markets, means it is more important than ever that companies get their talent acquisition strategies right."
She added: "Our new, global technology division will ensure that our clients are connecting with the best in the international market and being provided with talent delivery solutions that are successful in our other divisions."
::
Engagement agency Big Brand Ideas has announced a raft of new hires across its creative, search, engagement and client services teams.
Following several new client wins, the agency has appointed six new recruits.
Sachin Desai joins from MEC as senior account director, Anna Nicholls joins from Axon IT as senior account manager, and senior creative artworker Howard Reeves joins from One Marketing.
Anna, who has more than 15 years' experience in communications and marketing, said: "I wanted the variety of bringing lots of brands to life.
"As a vibrant, fast growing and forward thinking creative agency, Big Brand Ideas really stood out to me. I've joined at an exciting time and I am looking forward to the opportunities and experiences that Big Brand Ideas has to offer."
Big Brand Ideas has also appointed PPC manager Ben Clay from Dentsu Aegis Network to its search team, while Patrick Giffney, previously communications manager at the Rugby Players Association, and Tamsin Dyson from Brazen PR, join as PR and outreach manager and executive, respectively.
Ben Clay said it was the attitudes that attracted him to Big Brand Ideas: "I came to Big Brand Ideas because I loved the energy and passion I saw, and I feel it mirrored my own."
The new hires follow a number of new business wins and take the headcount to more than 45.
Managing director Jon Butler said: "The team at Big Brand Ideas has grown significantly this year alone, which reflects the demand of brands wanting to work with agencies offering an integrated approach.
"We've recently set our five-year vision which focuses on using our bespoke intelligent engagement approach to deliver seamless, highly agile, efficient and effective results for clients.
"The new recruits join at an exciting time of new clients wins and I'm looking forward to working with them to see the benefit their knowledge and experience will bring to our team."