Metro Mayor is star speaker at FinTech event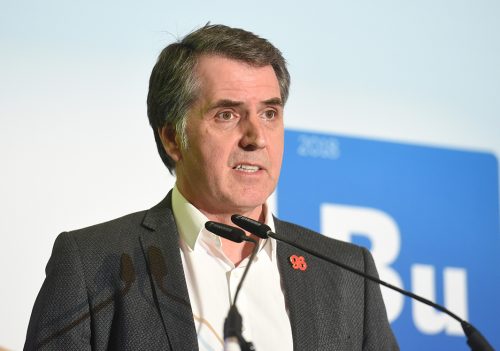 Liverpool's Metro Mayor Steve Rotheram is headlining Liverpool's first ever FinTech North conference.
The event is taking place at the Exhibition Centre on Tuesday, June 12, and the former MP will be joined by political, business and academic leaders to showcase the city's rapidly expanding FinTech sector.
The conference is part of Liverpool's International Business Festival.
Also speaking at the conference is Colu, the company behind Local Pound Liverpool, a form of local currency that sidesteps the banks by allowing consumers to pay locally owned and run businesses via an app.
The event is the latest in a series of FinTech conferences, with sold-out events held in Leeds and Manchester that attracted over 600 guests in April and May.
Now in its third year FinTech North has attracted more than 1,500 high-profile speakers and delegates from countries across the globe including Argentina, Brazil and USA.
FinTech North is supported by Invest Liverpool.
The one-day conference will hear from representatives from Government and the Northern Powerhouse, high street and investment banks, entrepreneurs and academics, industry regulators, alongside home-grown FinTech firms and international representatives from Australia and Canada.

Ellen Cutler, director of investment at Invest Liverpool, said: "We are pleased to welcome FinTech North to Liverpool for its inaugural event in the city region which also forms part of the initial opening day of the International Business Festival.
"Liverpool City Region has long been a location of choice for global businesses with a strong cluster of financial services headquarters, business process outsourcing and shared service centres.
"This, together with the growth of the digital sector, demonstrates that we are well positioned to support FinTech investment both from the large financial institutions growing their technology operations to the smaller disruptive companies developing new and innovative business models.
"Support for this event and attendance by international companies shows that this growing sector in the region is now being recognised globally."
Director of FinTech North Julian Wells said, "The response we received from the Leeds and Manchester FinTech and Financial Services communities is overwhelming and we expect Liverpool to be no different.
"FinTech North has always been about collaborating with regions across the Northern Powerhouse to achieve our shared goals and we are thrilled to be able to extend the conference to the historic city of Liverpool."