NW at heart of new 'micro nuclear reactor' scheme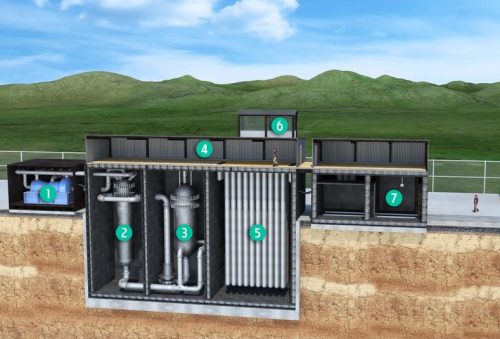 X

Register for free to receive latest news stories direct to your inbox
Register
The UK Government has announced funding for an Advanced Modular Reactor (AMR) programme involving Birkenhead ship yard Cammell Laird, Cheshire nuclear fuel expert Urenco, and Manchester University.
U-Battery is a micro modular nuclear reactor being designed to provide secure, low carbon embedded power at industrial sites and remote locations, currently focused on the UK and Canadian markets.
U-Battery is intended to support Canada's many northern and remote communities by providing a clean, cost-effective and safe source of electricity and heat, allowing them to move away from carbon-intensive diesel fuel, the company said in a statement.
The reactor is also intended to power industrial sites, including off-grid mining operations.
It is being developed by Urenco, a nuclear fuel company with facilities in Capenhurst, Cheshire, together with several partners including Birkenhead shipyard Cammell Laird, and construction group Laing O'Rourke.
A Canadian subsidiary company, U-Battery Canada Ltd, was created in February.
The UK Department for Business, Energy and Industrial Strategy is investing up to £44m in AMR feasibility and development work through its AMR programme.
In Phase 1 of the programme, U-Battery will receive a first tranche of funding to produce a feasibility study over the next six months, in which the commercial and technical case for U-Battery will be outlined.
"As part of our dual-track approach of exploring the UK and Canadian markets, we look forward to using our feasibility study to demonstrate how U-Battery can deliver a low-carbon solution to address energy and decarbonisation challenges," said Steve Threlfall, U-Battery general manager.
"With over 300 remote communities in Canada, as well as heavy industry, there is a strong interest in a low carbon, reliable and cost-effective energy alternative to diesel."
The UK's AMR programme announcement comes as the Canadian government prepares to release its Small Modular Reactor (SMR) Roadmap in late 2018.
The Roadmap, a multi-stakeholder initiative involving industry, government and other groups, will help drive SMR development and deployment in Canada, support the transition to a low-carbon economy and position Canada for success in the emerging global SMR market.
U-Battery has been designed as a cogeneration (combined heat and power) unit.
Its creation followed a challenge set by Urenco to design an economically viable, modular nuclear power generation system that is intrinsically safe.
Since large-scale nuclear reactors require high capital investment and heavily rely on the infrastructure of nuclear sites, designers were motivated to develop smaller scale reactors.
Over a three-year period, the University of Manchester and Delft University of Technology collaborated in an effort to design a unit that would work like a battery.
This would allow the modules to be manufactured in series and transported to the customer's site by means such as rail, barge or truck and the upfront costs of the reactor would be significantly lower than a traditional large-sized reactor.
The consortium aims to have a demonstration reactor operating by 2025.