People on the move: MHA Moore & Smalley; Arcadis; Howgate Sable; Net World Sports; Arup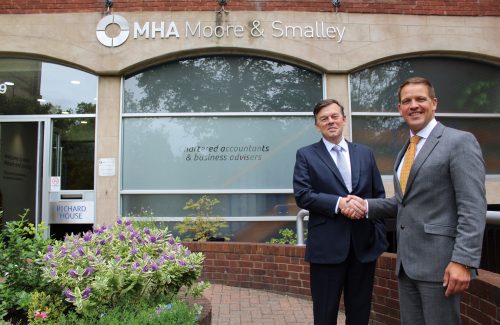 North West accountancy and business advisory firm MHA Moore & Smalley has appointed former big-four VAT heavyweight Jonathan Main as a partner.
Jonathan, a former head of PwC's North West VAT practice in Manchester, specialises in advising businesses on complex VAT issues, both in the UK and overseas.
He has experience across multiple industries including education providers, charities and other not-for-profit bodies, manufacturers, telecoms and travel businesses. As well as his VAT expertise, Jonathan is also an accredited mediator.
He has worked successfully over the past year with MHA Moore & Smalley through MHA Mtaxco, the boutique VAT practice he founded in 2017 after leaving PwC.
MHA Mtaxco will continue to trade as an independent provider of VAT services led by Alison Carey and will continue to work closely with MHA Moore & Smalley as a result of Jonathan's appointment, bringing additional specialist sector expertise, including retail.
Jonathan's appointment to the partnership at MHA Moore and Smalley comes a month after the firm announced record turnover of £16.6m.
Graham Gordon, managing partner at MHA Moore & Smalley, said: "Jonathan is a highly regarded professional and his appointment allows us to do more of the specialist VAT work that's in demand from across our client base, especially the larger clients and those that trade internationally."
Jonathan added: "I'm excited to be bringing the skills and experience gained after nearly 30 years in indirect tax to MHA Moore & Smalley. It's a great opportunity to help the firm further enhance its service offering to existing clients and to expand its domestic and international client base."
Originally from Crosby, Jonathan's career began at PwC in Manchester in 1989, before he moved to Arthur Andersen in London in 1991 and was promoted to partner in 1999.
He re-joined PwC as a partner in London in 2002 before moving to Manchester in 2005 to lead its North West VAT practice.
He left in 2016 and set up MHA Mtaxco in 2017 with two former PwC colleagues.
::
Design and consultancy firm Arcadis has reinforced its commitment to the North with the appointment of Chris Lavery as regional director for Liverpool.
Chris will be driving growth across the Liverpool City Region and wider North West of England.
He will also represent Arcadis on the board of George Osborne's Northern Powerhouse Partnership, where Arcadis is one of the founding partners further supporting regional growth initiatives.
Chris brings more than 20 years' experience at executive and board level across a range of sectors, including government, education, energy, health, transport, defence and infrastructure.
He joins Arcadis from the global professional services and technology company KBR, where he was regional director for the North-West.
With a strong grounding in the region, across both public and private sectors, Chris has previously held regional director and partner positions at Mouchel and Hornagold & Hills, as well as managing director at the Impact Partnership, 2020 Liverpool and 2020 Knowsley, joint venture companies between Mouchel and Rochdale, Liverpool and Knowsley Councils, respectively.
Commenting on his appointment, Chris said: "There are so many exciting growth and investment opportunities across the city and city region and,
with Liverpool playing a key role in the Northern Powerhouse agenda, the potential for long term prosperity is huge.
"In fact, Arcadis's recent Investing in Britain report identified Liverpool as one of the UK's leading hot spots for growth, with major strengths including not just it's infrastructure and the quality and affordability of housing supply, but also a positive business environment and the strength of the city brand."
Jonathan Moore, Arcadis city executive for Manchester and board member of the Northern Powerhouse Partnership, added: "Chris is a key strategic appointment for Arcadis and signals our intent to support and drive forward the regional growth agenda."
::
Manchester-based executive search firm Howgate Sable has launched a life sciences and healthcare division with the appointment of a new partner.
Bringing more than 14 years' industry experience to the firm, Damien Bower joins from a leading medical device specialist, where he sourced candidates for senior sales and marketing roles in start-ups, multinationals and owner-managed businesses, both in the UK and internationally.
Prior to that, Damien held a position at Venturexec, placing executive-level candidates across multiple sectors and business functions.
He will be responsible for leading the new life sciences and healthcare division alongside existing partner Mark Iliffe, while growing the EMI (engineering, manufacturing and industry) practice as the firm continues its ambitious expansion plans.
Damien said: "Howgate Sable is widely regarded as a leader in the executive search market and has a long standing heritage and reputation.
"That said, they're not afraid to innovate and it's because of this that I'm so excited to be joining. I look forward to contributing to Howgate Sable's continued success, as well as helping to shape the future of the business."
Neil Humphreys, partner at Howgate Sable, said: "The launch of the life sciences and healthcare practice is a really exciting milestone for Howgate Sable.
"With previous experience of the healthcare market, we're delighted to have built on this with the addition of Damien and cemented this sector as part of our proposition."
Howgate Sable, which also has offices in London, works with a wide range of businesses to source board-level talent across six key practice groups: consumer; aviation; EMI; e-commerce and retail; professional services; and life sciences and healthcare.
::
Wrexham-based Net World Sports has expanded its marketing team by 100% over the past 12 months in a bid to become the largest sports equipment retailer in the world.
Recording profits of more than £5m in 2017, the ecommerce company has made six new signings to its marketing team since January 2018 and is on the lookout for more creatives to join.
The award-winning online retailer has recruited a new member to its marketing department every month since the start of the year, taking its total team size up to 11 having been at five this time last year.
Emily Strickland joins as Net World Sports' new marketing manager having enjoyed time agency-side at Reckless in Chester, while The Hut Group's previous head of creative, Drew Hagan takes on the role of senior graphic designer.
Other notable signings include Sara Perrett as the brand's new PR and communications executive, Matt Jones as marketing executive, Eva McMillan as UX executive and Becca Kelsall as junior graphic designer, who join an experienced marketing team, comprising of web, digital, design and email.
Becky Butler-Jones, business strategy director at Net World Sports, said: "We're really excited to have welcomed such talented creatives into our marketing department, all of whom have brought such a wealth of knowledge and experience to the team already.
"With so many sporting events taking place at the moment, the team have fully embraced these opportunities, ensuring we are capitalising on all sales."
Founded in 2009 by Alex Lovén, Net World Sports is the biggest-selling football goal manufacturer in the UK.
::
Mike Wilton has been appointed to lead the Arup Manchester office. Mike will undertake this new leadership role alongside his current responsibilities working with local and national clients on brownfield redevelopment and infrastructure projects.
A civil engineer by background, Mike has been with Arup's Manchester office for 25 years and has worked on major projects in the North West, including Etihad Campus, former gasworks at First Street, and Princes Dock in Liverpool.
He led the Arup team that helped create St Peters Square, and is currently advising the teams responsible for the Carrington and Manchester Northern Gateway developments, and the Festival Gardens site in Liverpool.
Mike is also a member of the Greater Manchester Energy Group.
Mr Wilton said: "Greater Manchester has an exciting future ahead with the arrival of HS2, Northern Powerhouse Rail, and its ambitions to be one of Europe's first zero carbon cities – all of which will help catalyse economic and social growth.
"As a result, we have, and will continue to invest in developing the new skills and experience, including digital consultancy and business advisory services, to support our clients' changing needs."
Mike succeeds Arup director, Keith Rudd, who is standing down to concentrate on Arup's role in the Transpennine Route Upgrade, which will deliver faster, more frequent and more reliable rail services across the North of England.