Port of Liverpool to receive new transatlantic container services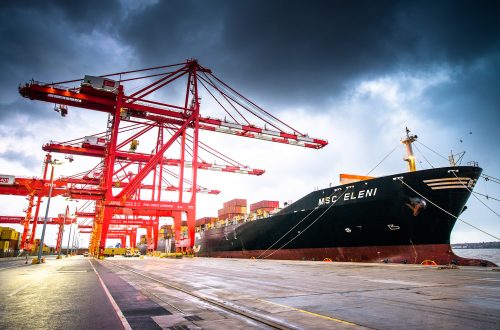 Peel Ports' flagship deep-water container terminal, Liverpool2, will welcome its largest regular caller to date when 2M (Maersk and MSC alliance) introduce a new transatlantic container service to the port beginning this Sunday, July 22.
2M is switching its TA2 service from Felixstowe to Liverpool on a temporary basis.
At the same time, Maersk Line's South American service, Colombia Express, will also start calling at the port of Liverpool, exporting UK goods to Newark.
Liverpool will be the final port of call for both weekly services as they head Westbound across the Atlantic.
The ships will load UK export cargo such as Scotch whisky, food products and trade machinery.
The new services will also see the Port of Liverpool open up direct links with the US ports of Charleston and Savannah.
Mark Whitworth, chief executive of Peel Ports, said: "This news demonstrates the impact which our investment in Liverpool2 has had in re-shaping UK logistics, and disrupting traditional approaches to shipping.
"It is also testament to the progress we've made at Liverpool and the efforts we've made to strengthen our relationships with major lines.
"Our objective is now to secure these, or similar services, in the long-term by delivering the cost, congestion and carbon emission benefits that Liverpool2 in particular will offer shipping lines and cargo owners."
Michael Forde, of Kingsland Drinks, said: "As one of the largest UK wine importers, this is great news for our business. It means we'll be able to ship more goods closer to our bottling, storage and distribution facilities in the North West, allowing us to maintain our reliable and cost-effective service for the benefit of our customers."
Asbjorn Kops, trade and marketing director of Maersk, said: "After resuming a service in Liverpool two years ago, via a feeder connection, we have been able to offer flexibility to our customers in the North West region.
"Switching our transatlantic service temporarily to Liverpool allows us to maintain our comprehensive UK offering with a wide range of connections to our global network."
Dan Everitt, managing director of MSC UK, said: "MSC has been connecting Liverpool to global routes since 2001 and the Port of Liverpool is an integral part of our UK logistics network.
"Having Liverpool as a temporary transatlantic NEUATL2 alternative allows MSC, as part of our comprehensive direct Atlantic Services, to continue to offer customer access to the global market during a time of operational constraints in the UK's port network.
"MSC relies on the full breadth of its UK port network to continuously evaluate the best service options for our customers."
The TA2 and Colombia Express routes will use a range of vessels up to 8,500 TEU (containers). The larger vessels will call at Liverpool2, with smaller vessels using Royal Seaforth Container Terminal.
Earlier this year Peel Ports introduced a rail freight service directly from the Port of Liverpool, in partnership with DB Cargo.
It is now the only major UK container terminal to offer tri-modal connectivity, with road, rail and water, the Manchester Ship Canal, plus short-sea shipping.
Liverpool2 is a £400m investment by Peel to create an in-river deep-water container terminal at the Port of Liverpool, enabling it to handle some of the biggest container ships in the world.