Manchester pharmaceutical CEO receives honorary doctorate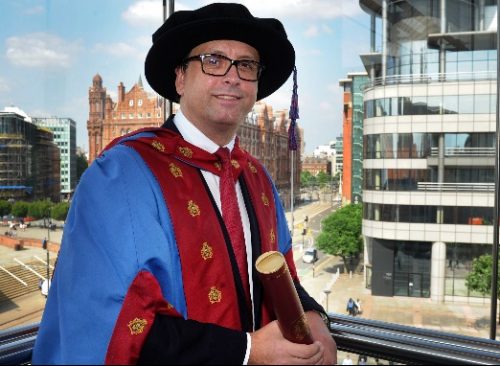 Manchester Metropolitan University has recognised the contribution of one of its former students to the global pharmaceutical industry.
Paul Hudson, now chief executive of multi-national company Novartis Pharmaceuticals, returned nearly 30 years after finishing an economics degree to receive an honorary doctorate.
Manchester-born Mr Hudson was named an honorary Doctor of Business Administration and addressed graduates at a graduation ceremony for the University's Faculty of Business and Law held yesterday, July 19.
Mr Hudson graduated from Manchester Metropolitan in 1990 with a BA (Hons) in Economics and now oversees a workforce of 30,000 for the Novartis Pharmaceuticals unit, which commercialises innovative patent-protected medicines to enhance health outcomes for patients and healthcare providers.
After completing his degree he began a career in the pharmaceutical sector with roles in sales and marketing, holding positions of increasing responsibilities at different companies in various countries and being appointed chief executive at Novartis Pharmaceuticals in July 2016.
Drawing on his experience, hetold the Bridgewater Hall audience: "It is almost 30 years since I sat where you are sat and it has been quite a journey.
"For me, my time at Manchester Metropolitan University was a gift.
"It gave me some inspiring lecturers, people that stimulated my thinking and made me curious and energised and made me interested in business, in economics, in global opportunities, and in making things fair and equitable worldwide.
"They have inspired me to the career that I have gone on to have.
"I am now a lifelong learner as part of the culture that I benefited from all those years ago."
He added: "Manchester Metropolitan University gave me something even more special: it gave me lifelong friendships, people that I work with today and people that I have worked with over the years and people that I will meet regularly to share our experiences."
He said, in a world where technology is taking over, it is more important than ever to continue to invest in real human interactions and dedicate enough time to people.
And he encouraged graduates to find a purpose in their work, to have strong values, such as honesty, respect and integrity, but also to have fun at work, saying: "For me, what has guided me throughout my career is having a positive impact on patients' and associates' lives.
"I implore you that when you look back in 30 years on this day you are as proud of the institution as I am."
Mr Hudson paid tribute to Yvonne Alexander, Professor of Cardiovascular Translational Science at Manchester Metropolitan University, who presented him to receive the honorary degree, saying: "It is places like here and work like hers that give us an absolutely wonderful chance to stand on the shoulders of foundational, translational science and do something meaningful."
Prof Alexander said: "We in Manchester Metropolitan want to emulate the qualities Paul has used to gain his current success, in that we aim to create an energised and supportive environment where mentorship and encouragement is embedded in the culture of our students and staff."
Novartis Pharmaceuticals as a business unit is focused on several key therapeutic areas including cardio-metabolic, immunology and dermatology, neuroscience, respiratory and ophthalmology and is part of the Switzerland-based Novartis Group that in 2017 achieved net sales of £37.7bn.