Liverpool strengthens trade links with Indonesia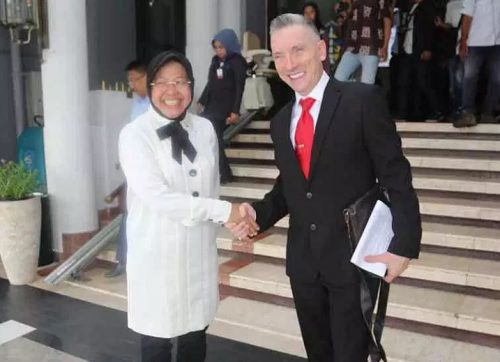 Liverpool has strengthened its ties with Indonesian twin city Surabaya and aims to forge stronger links, particularly in the maritime and creative industries sectors.
A trade delegation from Surabaya, Indonesia's second largest city with a population of 3.5 million, visited Liverpool for three days last week, and extended an invitation to the city's businesses to take part in a creative industries forum in Surabaya in November.
Cllr Gary Millar, Liverpool deputy mayor and cabinet member for business, economy and skills, met with Surabaya mayor Tri Rismaharini during the visit.
The two first met last December when Cllr Millar travelled to Surabaya to explore the potential of a twinning agreement, which was signed in March this year
The agreement is focused on four priorities: Development of the creative economy; port managemet; smart cities development; and capacity building of human resources.
Cllr Millar said the potential for trade between the two cities is exciting: "Surabaya is home to Indonesia's ship building industry and has a cruise liner and ferry terminal.
"There is very little British involvement in Surabaya, which frustrates them because Indonesia is the fourth largest country in the world.
"They are desperate to have closer ties with the UK and UK cities.
"They want help with maritime, with entrepreneurship, and the 'maker' industries.
"They are really excited about engaging with our creative industries to create a creative industry sector in Surabaya."
He added: "Surabaya is more than six times bigger than Liverpool, but they still look to us and are keen to explore maritime education. They have engaged with Liverpool John Moores University's maritime and engineering departments, and the Mersey Maritime movement.
"They are looking to upskill their people."
Cllr Millar said it is too early to put a value on the potential of trade between the two cities, but he urged Liverpool businesses to engage with Surabaya.
"In terms of potential it is very early days, but there is huge potential in the maritime and digital and creative industries. There are 270m customers in Indonesia, and 3.5m in Surabaya.
"But it is up to businesses to make it happen.
"They have got to come forward now.
"The potential will turn into whatever these businsses make happen.
"They have got to come forward now.
"The potential will turn into whatever these businsses make happen.
"We may have opened the door, but now it is up to the businesses to springboard into Surabaya."
In 2016 Indonesian exports to the UK reached £1,545bn, a 16.4% increase from 2015.
The majority of UK exports to Indonesia are in machinery and transport equipment (36.2%), chemicals and related products (25.8%), and crude materials that are inedible (14.4%).
By contrast, UK imports from Indonesia are mainly manufactured goods (61.5%).