Bruntwood appoints construction firm for Alderley Park scheme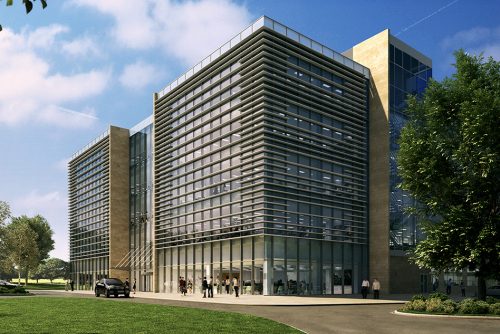 Property group Bruntwood has appointed Sheffield-based construction company J F Finnegan, on behalf of The Royal London Mutual Insurance Society, to undertake the refurbishment and extension of the Parklands building at Alderley Park, Cheshire.
Bruntwood acquired the building in 2014.
Parklands is a 100,000 sq ft building sitting across five floors.
Insurance firm Royal London announced it was relocating 1,200 staff from its Wilmslow offices to Alderley Park last year.
Originally built in 2002, this BCO award-winning building offers high-quality open-plan office space, a central atrium and ground floor cafe-style area.
The redevelopment of Parklands will include a circa 38,000 sq ft extension spanning the southern façade of the building across all floors, a new link bridge, modifications to the central accommodation stairs, and strip-out and replacement of all existing office fit-out and associated services.
Dawa Singh, head of pre-construction at J F Finnegan, said: "We are really pleased that Bruntwood selected J F Finnegan as their delivery partner for this scheme, in partnership with Royal London.
"We also know that Bruntwood is passionate about creating the right places for businesses to succeed and are committed to investing in award-winning, quality developments.
"We echo these values and look forward to delivering this project."
Peter Crowther, director, Alderley Park, said: "This is an important next step in the relocation of Royal London to Alderley Park and we are very much looking forward to welcoming the team into the Alderley Park community."
Jon Glen, group operations director for Royal London, said: "It's great that we continue to make good progress in our move to Alderley Park, our people are getting excited about it and we're focused on creating a great place to work at Parklands."