A 'visibly' better solution for recycled plastic bottles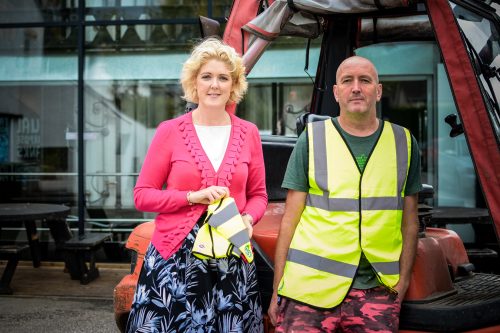 A Lake District company has launched an innovative high visibility safety vest using material created entirely from recycled plastic bottles.
Pogu Ltd, the reflective safety business based in Staveley, have spent much of the past year working closely with suppliers to create the high visibility waistcoats, a product which is a world first in the personal protection equipment (PPE) market.
Tiffany Solender, Pogu managing director, explained: "Like many others, seeing the rise in plastic waste accumulating globally really struck a chord with us and we made a conscious decision to investigate the potential for incorporating more recycled materials in our products.
"In early 2018 I headed over to China to meet with a specialist company who could produce the plastic thread and fluorescent fabric," she said.
"I was happy that manufacturers could produce the fluorescent material to my specification, but I also wanted to see first-hand their facilities and working conditions – it's fine making an ethically-sound garment, but not at the expense of employee well-being."
The resulting fabric has been developed into a new hi-vis waistcoat, each using material that uses up to eight recycled plastic bottles.
Production samples of Pogu's PPE vests arrived in the UK this month, complete with the BS EN 471 accreditation ensuring their compliance with the recognised industry standard, with orders now being taking from both UK and international customers.
The lifespan of a typical PPE vest is just three years, after which it is recommended that they are replaced due to the materials fading or their reflective properties reducing.
The beauty of Pogu's new products is that they, themselves, can be recycled instead of being consigned to landfill.
"Our new vests will perform equally as well as any comparable high-quality product on the market, but with the added bonus that this is a highly-sustainable product," said Tiffany.
She added: "Plastic recycling is more than just a current hot topic, with our collective 'throwaway culture' having a detrimental impact, both locally and globally.
"TV programmes like 'Blue Planet' helped bring it into more people's consciousness, but we all need to take action."