Three North West sites included in £111m property deal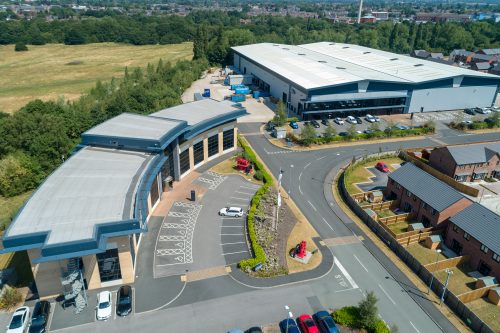 US-based real estate investment trust Liberty Property Trust has purchased a one million sq ft warehouse and logistics portfolio from commercial real estate investor Leftfield Properties for £111m.
The portfolio consists of seven warehousing and distribution facilities centred on strategically important locations in the Midlands and the North West and two properties on the M8 motorway, just east of Glasgow.
Three sites in the North West are included in the deal, at Daten Park, Warrington, Oldham Broadway Business Park and Bramhall Moor Lane, Stockport.
The portfolio was built up by Leftfield through select acquisitions since 2010 to capitalise on structural shifts in the UK logistics market, particularly the growth in internet retailing.
The facilities fulfil both national and last-mile distribution roles with good access to motorway links and major urban centres.
The off-market acquisition supports Liberty's growing investment in the UK logistics sector, with the business having recently purchased a 10-acre site for development on Brackmills, Northampton.
Liberty's UK warehouse portfolio is a balance of well-let assets, including this new acquisition, and a development pipeline which together extend to approximately four million sq ft.
The Leftfield purchase also mirrors the increasing depth and breadth of Liberty's American industrial and warehouse operation which currently owns and operates a portfolio of 100 million sq ft and touches nearly three-quarters of the US logistics market.
The Leftfield assets have a total passing rent of £6.4m per annum with a weighted average unexpired lease term of just under 4.5 years, offering significant opportunities for Liberty to add value in the near-term through its in-house asset management and leasing expertise.
Current tenants include major retail and 3PL operators Tesco, DHL and Great Bear, as well as XPO, with whom Liberty has an extensive relationship in the US.
Nico Fourie, chief executive at Leftfield Advisors, said: "We positioned ourselves ahead of the growing demand for a new specification of well-located warehouse that support changing consumer habits in the UK.
"We have taken the time to construct a portfolio of quality assets that support this demand, leading to committed tenants and strong investor interest.
"This deal enables us to implement the next stage in our investment strategy, where we will focus on assets that enable us to exploit the convergence between retail and logistics."
Andrew Blevins, managing director at Liberty Property Trust's UK operation, said: "This acquisition represents a major step forward in our ambition to continue growing our UK warehousing and logistics activity and builds great synergy with our operations in the US.
"The sites add further mass to our existing North West and Midlands built and development portfolio and are ideally placed to capitalise on this growth sector."
He added: "We'll be drawing on Liberty's longstanding experience in the US, as well as the deep expertise within our UK team, to maximise this strategic position and drive value from the properties through creative and diligent asset management."
Liberty were advised by DTRE.
Leftfield has been active in the UK commercial property market for more than 10 years and will continue to identify, acquire and develop assets that meet underlying changes in consumer behaviour.
In line with this strategy, Leftfield recently acquired Caledonian Retail Park, Wishaw, North Lanarkshire.