Medical supplies company splashes out seven figure sum on business park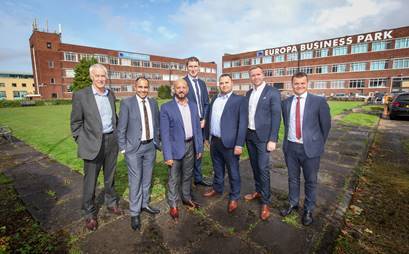 A healthcare and veterinary medical supplies company has acquired a 4.2 acre business park for a seven figure sum.
IMS Euro bought the Stockport business park it has operated for over 25 years with backing from HSBC.
The acquisition of Europa Business Park comes following increased demand from customers both in the UK and around the world and will enable the business to reconfigure its existing premises, redevelop the site and accommodate a larger workforce.
IMS Euro is predicting a significant increase in capacity following the planned redevelopment works.
Extending the existing premises will allow IMS Euro to double its workforce, initially creating 30 new jobs across warehouse and administration roles.
With major contracts secured, the business expects to increase turnover by over 80 per cent in their current financial year.
Durgham Shamot, chief of the IMS Euro group, said: "It's fantastic to acquire the business park we've called home for so many years.
"IMS Euro has grown significantly since it began trading in 1992 but our rented premises restricted any meaningful expansion.
"We wanted to continue operating from our Stockport distribution centre so, with HSBC UK's support, we jumped at the chance to buy the business park when it came on the market.
"There is a huge demand for IMS Euro to expand its current overseas distribution centres and create a worldwide network. This UK expansion program allows us to secure the company's future and develop global links from our base in Greater Manchester."
Zubayr Atcha, HSBC UK's corporate relationship director in Greater Manchester, added: "We've supported IMS Euro for over 15 years and have always been impressed with its ability to source high quality products for the UK medical and veterinary markets.
"It has shown clear, year-on-year growth for the best part of a decade, bringing jobs to the area and gaining influence in new international markets.
"IMS Euro is one of the fifty fastest growing private companies in the Greater Manchester area so we look forward to supporting the Stockport based business as it continues to grow in the future."
IMS Euro specialises in supplying and developing high quality non-pharmaceutical medical and veterinary products across an international network, with distribution sites in the Republic of Ireland, Netherlands, Belgium and the UAE.
The funding from HSBC UK has enabled IMS Euro to win a major new supplier contract with NHS England.
Noted for its high labour standards, excellent customer service and high-quality products IMS Euro will save the UK taxpayer almost £2m in 2018.
This Stockport business now has a HSBC UK facility in place to ensure that any increase in demand from NHS England can be met quickly.
The deal was supported by HSBC's Business Development Manager, Richard Ford, and Deputy Relationship Director, Robert Danson.