People on the Move: De Pol Associates; CBRE; Sigma; Conveyor Networks; Turley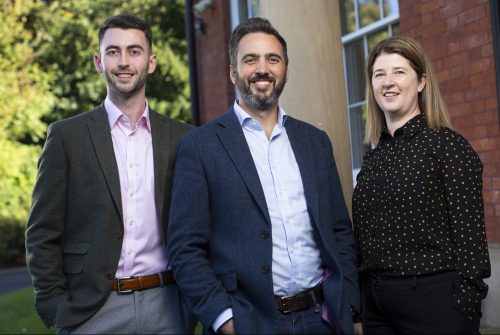 X

Register for free to receive latest news stories direct to your inbox
Register
Preston planning consultancy De Pol Associates has recruited two new members of staff as part of its growth strategy.
Jo Mills joins the team from Liverpool City Council where she was principal planner, while new graduate planner Louis Webb joins from Newcastle University where he recently completed a degree in urban planning.
Jo Mills holds her Master of Planning from the University of Liverpool and an MSc in Commercial Building Surveying from Liverpool John Moores University.
She has 15 years' experience in planning and building control across major residential, retail, and office projects, community facilities and heritage status projects.
Schemes include delivery of the new Merseyside Police Headquarters and Merseyside Fire and Rescue Service operational centres, securing the regeneration of New Hall Campus, a development of 26 Grade II-listed buildings, the majority of which were at risk.
She has a high success rate on appeals and has dealt with a wide range of contentious planning issues, including out-of-centre retailing, regularisation of unlawful developments and new developments within the World Heritage site.
Having completed his degree, and after regular Summer work placements at De Pol throughout his course, Louis Webb has now been offered a full-time training post.
He will assist the team by undertaking research, and helping to prepare documents in support of development appraisals, local plan representations, client applications and appeals, as part of his professional training and development.
Alexis De Pol said: "Having been an integral part of one of the country's busiest planning departments, dealing with a range of diverse and high-profile schemes, Jo's credentials are incredibly impressive. Her experience of major projects, winning on appeal, and her breadth and depth of knowledge will be most welcome by our clients.
"In Louis we have an enthusiastic and smart young planner who is a great addition to our team. With strong technical skills and an up-to-the-minute grasp of the theory, Louis will immediately be able to assist and learn from his senior colleagues, and we will be working with him to develop his on-the-job expertise and achieve his RTPI chartered status."
Jo said: "After 15 years of public sector planning, working predominantly within an urban environment, I was looking for an opportunity to broaden my skills within a commercial consultancy and have the chance to see a plan through from inception to a successful approval."
Louis added: "Having enjoyed three years' of Summer placements at De Pol I am delighted to have been offered a graduate position and look forward to learning what I can from this fantastic team as I work towards my professional qualification."
The recruitment comes on the back of a series of new project wins, both from new clients and existing clients increasing their activity. A resurgence in residential property and commercial development within Lancashire and nationally is resulting in a hike in planning submissions, and De Pol is picking up significant instructions throughout the county and beyond as its reputation grows.
::
Kenny Orpin has been appointed as an associate director in the investment advisory arm of CBRE's capital advisors team.
Based in the CBRE Manchester office, Kenny will be part of the real estate lending team advising clients across the UK regions on the implementation of real estate lending strategies.
Kenny has a broad range of experience in senior, whole and mezzanine lending structures having previously worked in the real estate lending team at Santander, and before that in the structured property finance team at Barclays.
In his new role at CBRE Kenny will work in the real estate lending team, led by Andrew Antoniades, which specialises in advising private institutions and public bodies and to structure and implement loans on their behalf through specific investment strategies.
The team currently manages debt mandates totalling £800m, including investment and development lending.
Kenny will be working with funds specifically in the UK regions, where there is a scarcity of speculative development finance.
Many of the CBRE fund strategies are linked closely to regeneration and increasing the socio-economic benefits of the surrounding are, including the North West Evergreen Fund and SCR Jessica.
Andrew Antoniades, senior director, investment advisory, CBRE, said: "Kenny is a key hire in our drive to expand our lending business and extend our reach to clients in the UK regions. We see many attractive investment opportunities as well as chances to make loans to fund regeneration across the UK regions, and in particular in the North West."
::
User experience (UX) agency Sigma has announced the appointment of Rebecca Rae-Evans as business development consultant to support the company's expansion plans over the next 12 months.
Rebecca has a varied and extensive background in design and digital, working with blue chip clients on award-winning research, marketing and website projects.
She has worked for more than 10 years in digital, specialising in strategic consultancy within the non-profit space, helping people using tech for social good and exploring how the technology industry can make more ethical choices.
Rebecca also co-founded the podcast and event series, Tech for Good Live, and is currently working on The Inclusion Coalition to increase diversity in Manchester's technology sector.
Her most recent roles have included digital engagement manager at The Federation and head of strategy and insight at Reason Digital.
This new role will see Rebecca taking responsibility for the management of some existing client relationships and leading some of the team's marketing and outreach activities.
She will also look to expand the business by building relationships with prospective clients across some of the company's key sectors: health & life sciences, education, charities and government.
Rebecca brings Sigma's total team to 45, with offices in both Macclesfield – where she will be based – and Cambridge. Sigma is on track for continued growth throughout 2018, with expected sales of £3.7m.
Rebecca said: "I'm so excited about working with Sigma and their talented team to make a difference with digital.
"Sigma is renowned for doing great work, and working with a range of interesting clients. I hope to bring my experience of working in the non-profit sector to their current, and new clients."
Hilary Stephenson, managing director of Sigma, said: "This is a great hire for us. Not only is Rebecca incredibly talented and proficient at her day-to-day role, but her commitment to promoting tech for good in the industry perfectly dovetails with our business values and outlook. We're looking forward to doing some great work together."
::
Warehouse automation specialists, Conveyor Networks, has made three key appointments strengthening its North West-based team.
Ian Cumming has been appointed operations director, bringing with him more than 30 years' experience in the mechanical and electrical systems integration industry.
Ian joins the team at Conveyor Networks after 22 years working for global technology company, Siemens. He will use his extensive skills in engineering, project management, finance, commercial and operational management to complement and enhance Conveyor Networks' expertise, and help drive the business forward as it expands its client portfolio.
Ian said: "I'm excited to strengthen the successful ongoing narrative of an excellent company. I am passionate about implementing excellent delivery services to all our customers. Excellent service is always a great differentiator."
Also joining the team is Rebecca McAulay as marketing manager.
Rebecca has more than 12 years' marketing and communications experience for both the public and private sectors, most recently as a senior leader for a national charity.
She will be responsible for raising the profile of Conveyor Networks, marketing its products and services to existing, and new customers.
In addition, Conveyor Networks' sister company, imio Software Solutions also welcomes graduate software engineer Michael Bulmer.
Michael joins imio after completing a MSc in Computer Science from Liverpool University and will be responsible for the software support and development of imio.
In May 2018 Conveyor Networks signed a deal with Pets at Home, the UK's largest retailer of pet supplies, to implement a £2.5m warehouse automation project at its eCom distribution centre in Northampton.
David Carroll, managing director at Conveyor Networks, said: "We strongly believe in making sure we have the right skills to match our service delivery and with the announcement of our recent deal with Pets at Home amongst others, we are well positioned to continue delivering excellent automation and software solutions."
::
Turley has appointed James Blake as director in its Manchester sustainability team in a move that bolsters the national planning consultancy's sustainability offering in the North.
A chartered environmentalist with more than 20 years' experience, he joins from engineering and environment consultancy RSK.
He brings a strong track record in the planning and built environment sectors and has undertaken numerous corporate sustainability and carbon reporting projects for a diverse range of clients.
He has a strong track record in providing climate change advice to the environmental impact assessment (EIA) process, having contributed to recent Institute of Environmental Management (IEMA) guidance.
"This will further enhance Turley's capability and resource in this area, both nationally and regionally, which was boosted earlier in the year by the appointment of Andy Ricketts as head of EIA.
Mr Blake said: "The complementary services on offer at Turley are a real distinguishing factor and I'm excited to work with colleagues in the planning, design, economics, heritage and strategic communications teams.
"I look forward to embedding the sustainability service in Manchester and demonstrating the immense value we can add for Turley's existing client base, as well as attracting new opportunities in the North."
Colin Morrison, head of sustainability at Turley, added: "We're delighted to welcome James as we continue to invest in our growing team in line with increasing demand for our services. His breadth of knowledge and experience is a valuable addition to our Northern offering and the national sustainability team."