A hard cell will put North West at head of technology race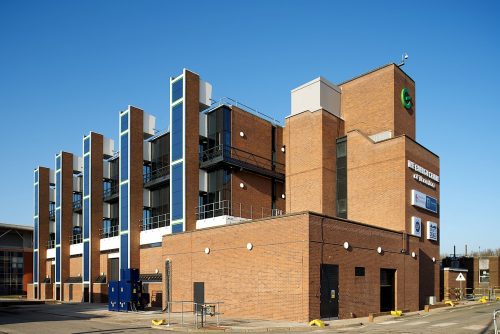 A new £4.1million facility in Manchester is at the cutting edge of the development of new sources of green, emission free energy.
The Manchester Fuel Cell Innovation Centre (MFCIC) aims to be at the forefront of hydrogen and fuel cell technology.
It creates sustainable electrical energy through a chemical reaction between hydrogen and oxygen – with water as the only by-product.
Experts believe that the technology could power homes, offices, factories, cars and public transport – making them more efficient and not dependent on the main power grid.
Fuel cells have higher efficiency than diesel or gas engines, operate silently and the only waste product at point of use is heat and water. They can be used to store energy efficiently, which other forms of renewable energy currently struggle to do.
Researchers at MFCIC are planning to share their expertise and £2.5m of dedicated specialist equipment with local SMEs – training them in the new technology so they can discover and harness commercial and environmental benefits.
The centre is part of Manchester Metropolitan University and it was officially opened in September by former Labour government minister Lord Peter Mandelson, its chancellor.
He said: "Decarbonising our industries and creating a sustainable infrastructure is key to modernising the UK economy.
"This new centre will provide Greater Manchester with vital skills and tools in fuel cell technology, so that the region can play a significant role in the UK's drive towards clean, renewable power."
Centre director Amer Gaffar said: "Our collaborations with SMEs will open up the vast market opportunities that fuel cells can bring to Greater Manchester business and industry – ensuring that this green technology is adopted across the region.
"We are also excited about engaging with the public, educating people about the importance of producing sustainable energy and how hydrogen power can benefit all of us."
A number of initiatives in Greater Manchester are working towards the creation of a low-carbon future. The aim is for the city region to achieve carbon neutrality by 2038.
Plans to make it one of the leading green city-regions in the UK and Europe were approved this summer.
They followed the release of the 'Springboard Report', an action plan created out of the first Greater Manchester Green Summit which was held this spring.
Work is now underway to define a five year plan to be agreed at a planned second gathering in March next year.
Stockport Council leader Alex Ganotis heads Greater Manchester's Low Carbon Hub. He says: "More than 4,000 people got involved in the summit, and proposals arising from the event included setting a date by which all homes will be net zero carbon, and moving to an emissions-free bus fleet."
Greater Manchester Mayor Andy Burnham adds: "All options are being explored. We're determined to do things differently here in Greater Manchester, challenging the status quo to bring about the changes we need to improve our environment and deliver a revolutionary low-carbon future."
Meanwhile, in Lancashire a new collaboration has been set up to help reduce the carbon footprint of its SMEs.
The MaCaW Project is a developing partnership between the academia and industry that aims to help small businesses overcome the challenges and barriers they face when looking to move to a low carbon model.
The aim is to support them as they work to implement low energy practices which will not only reduce their "carbon burden" but will also deliver cost savings to their organisation.
The programme includes workshops and conferences to raise awareness of how businesses can benefit.
There's also support at hand in the form of energy, water and waste audits and the development of action plans.
There will also be 50 per cent match funded grants available – up to £8,000 – for relevant equipment. And the project will help organisations to manage and report their emissions effectively.
The ERDF supported programme is aimed at county-based companies that trade business to business, employ less than 250 people and have an annual turnover of less than £45m.
Project lead Dr Karl Williams from the University of Central Lancashire (UCLan) says: "We aim to work with SMEs across all sectors to identify and prioritise the opportunities available to them. The aim is to help Lancashire to reduce its overall carbon emissions.
"We will be encouraging businesses to look at everything they do in their organisation in terms of the amount of carbon they are generating.
"It is about raising awareness of the benefits of carbon reduction, not just in terms of the environment but also the savings companies can make by going on this journey. From an SME's point of view it makes real business sense."