More than half of Clippers Quay full before it opens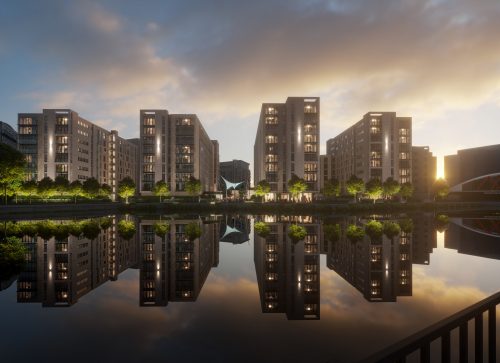 The largest purpose-built rental housing scheme outside London has opened in Manchester, with more than 54% of all flats in phase one reserved before opening its doors.
Clippers Quay, in Salford, Greater Manchester, is owned and managed by the UK's largest listed residential landlord, Grainger.
The FTSE 250-listed company has secured investments in new projects of more than £800m since 2016 to help 'Generation Rent' by creating clusters of "build-to-rent" homes that offer mid-market rents and up to three-year family-friendly tenancies, coupled with added value such as free superfast wi-fi and extensive amenity spaces.
The company's schemes are designed and managed by Grainger directly and property experts believe this model will drive up standards and enable Britain to emulate the professional rental markets found in Germany and North America.
The 614-home build-to-rent development is the biggest purpose-built scheme of its kind in the country and it has been made specifically for renters, with all mod-cons including a 24-hour gym, communal living rooms, co-working space and superfast WiFi.
Most importantly it is owned and managed by Grainger, a single professional landlord with a full time on-site management and concierge team so residents don't have to put up with absentee landlords.
Grainger says the fact most rental flats in the UK are owned by amateur buy-to-let landlords means services standards are often poor for tenants.
This has led to high demand from tenants for the scheme, when normally letting up a whole block of flats takes months.
To sell this many units would take eight years, but because landlords want income from renters as quickly as possible schemes are built far faster than for sale.
Grainger estimates Clippers and its 614 homes was built four times faster than it would have been if for sale.
Over the past five years the Government has recognised the advantages this presents for its ambitious housing delivery targets. The fact most schemes are institutionally-funded and are filling pension pots sweetens the deal.
Research from Savills and the BPF says that by the end of Q3 2018, there were 131,855 build-to-rent units either completed or planned across the UK, including 25,665 completed, 41,870 under construction, and a further 64,320 with planning permission.
In London, there are a total of 67,117 units, while outside London there are 64,738 units.
Of all the UK's new BTR landlords, Grainger has one of the largest pipelines of consented stock, with more than 5,000 homes specifically designed for rent either operational or in the pipeline. It intends to double that over the next five years.
Grainger designs schemes to be affordable so that tenants stay longer, which it says is a win/win, as tenants get secure tenure and Grainger does not have to worry about vacant flats or re-letting.
Prices for a one-bed flat at Clippers Quay start at £740, two-beds £900 and three-beds renting for £1,285 a month, and Grainger runs a 'stay as long as you want policy' with optional long-term tenancies.
To rent out the flats in advance of opening, Grainger has been using virtual reality technology to show tenants previews of what they will be getting.
Grainger chief executive, Helen Gordon, said: "We are building an entirely new product that finally offers people renting a quality service from a reputable landlord at a price they can afford. Renters are responding accordingly.
"With a growing need for agile working and labour mobility, people need more flexibility when it comes to housing and deserve far better standards than the rental market currently provides.
"This culture of 'home ownership at all costs' no longer resonates for many people, and they're less inclined to take on high debt or mortgage payments, whilst still having to compromise on important elements, such as location.
"A more professional rental market is good for consumers, the economy and for politicians keen to get more homes built, faster."