International accolade for planning and engineering experts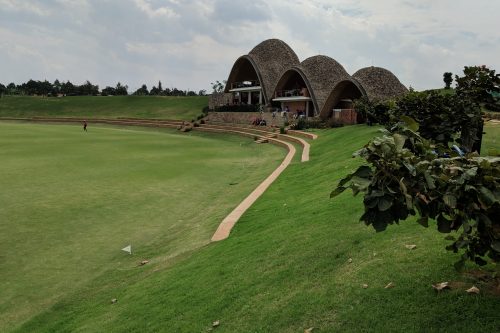 It has been described as 'the Lord's of East Africa' – now Rwanda's national cricket stadium is bowling over engineering and architectural experts across the globe.
In the latest accolade, the highly-acclaimed Kicukiro Oval in Kigali has received the prestigious Institution of Structural Engineers' 2018 award for small projects under £1m.
It is one of the latest high-profile projects that Manchester-based multi-disciplinary planning, design architecture and engineering group FBW Group has been involved in across East Africa.
FBW Group has operations in Uganda, Kenya, Rwanda and Tanzania, and a team of more than 30 professionals delivering high value construction and development projects in the region. But its roots are firmly in the North West of England.
FBW Group has been successfully helping deliver projects in East Africa for more than 20 years.
The major player in the region's construction and development sector was founded in 1994 by architects and engineers working in Tanzania, including Geoff Wilks, from Stockport, who is still the chairman of the group.
He divides his time between TRP Consulting, the structural and engineering practice based in Manchester's Northern Quarter where he is a director, and East Africa.
Architect Paul Moores, from Manchester, is managing director and is based in the group's head office in the Ugandan capital, Kampala. He joined the business in 1998.
The North West links continue with Stuart Harley, again from Manchester, who is chief operational officer, operating out of the group's Ugandan office, along with Nigel Tilling, from Warrington, who is director of architecture.
Rob Woffenden, originally from Marple in Cheshire, is another member of the team.
Formerly director of engineering in the group's Rwanda office, he has now moved to its Kenyan office to help drive its expansion plans.
FBW's Rwanda operation was brought in to provide engineering support for the substructure and mezzanine of the cricket ground's striking pavilion building, as well as civil and MEP design and local oversight.
The Rwanda Cricket Stadium Foundation charity raised the cash to build the spectacular new home of Rwandan cricket on the outskirts of the national capital.
Its patrons include former UK Prime Minister David Cameron and Eccles-born former England cricket star Michael Vaughan.
The ground is providing a permanent home for the sport, helping its development and increasing opportunity for thousands of disadvantaged young people.
Design architect Light Earth Designs employed the use of parabolic vaults to create the large span structures that house the ground's pavilion.
Effectively employed since the Middle Ages, with very 'lightly engineered' materials, the system is commonly referred to as a 'Catalan Vault'.
That 'Catalan' approach allowed the creation of a building that, when viewed from the pitch, forms a parabolic shape that perfectly matches a bouncing ball. It also evokes the hills of Rwanda that surround the venue.
Paul Moores, managing director of FBW Group, said: "The pavilion is a very special building, a striking statement of the beauty of using sustainable Rwandan materials and a local workforce to create a truly stand-out sporting venue.
"It is a wonderful place to enjoy cricket and it is little wonder that it has attracted so much interest, not just in Africa but internationally. We're honoured to have played our part in its delivery."
FBW, which has recruited some of the top talent in architecture, design and engineering in East Africa, offers a wide range of in-house professional building and technical services.
Geoff Wilks said: "It's great to see the links continuing between East Africa and the North West, it's what makes FBW so special in my opinion.
"We've continued to attract top talent from this part of the UK, which is globally-recognised for the strength of its architects and engineers, as well as from the countries we operate in."
In Rwanda the practice is also working on a number of tourism-related development projects on behalf of international investors, with more in the pipeline.