People on the Move: Browne Jacobson; Westgrove Group; K7 Media; North West Mediation Solutions; Public Sector plc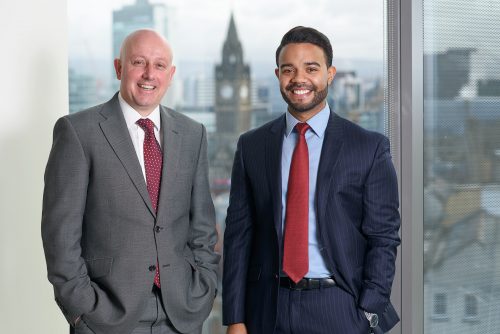 Browne Jacobson has appointed Peter Allen as partner to its Manchester office, as it continues to grow its North West corporate practice.
With more than 20 years' experience as a corporate and commercial lawyer, spent both in the North West and prior to that in the City of London, Peter has a strong reputation in the Manchester mid-market deal space and particularly for providing pragmatic and hands-on guidance to owners and managers of businesses to help them through complex transactions, including fundraisings, acquisitions, disposals and joint ventures, domestically and internationally.
He has a particular focus on the medical devices and food and beverage industries, having spent a number of years heading up the UK food and beverage sector group at international firm DWF. He joins from Manchester law firm Kuits.
Recent deals Peter has advised on include the sale of contact lens manufacturer CLPL to listed Japanese group SEED, the sale of North West-based confectionery sauce producer Fruitapeel to Belgian business Puratos, and a UK joint venture for UK juice production involving large Spanish-based food and beverage business AMC Group.
As partner in Browne Jacobson's corporate team, Peter will work in a well-established team with solicitor Ryan Brown to provide full service corporate and commercial advisory services, with a focus on the North West market.
Ryan joined the firm from Kuits in May 2018, having worked closely with Peter there for a number years.
The appointments continue the strong growth across Browne Jacobson's North West team, which has seen headcount grow by 38% in the past 12 months.
Amanda Callaghan, health partner and head of the firm's Manchester office, said: "Last year we saw strong growth across our service lines within the North West, and it's fantastic that we continue to attract exceptional talent to our Manchester office.
"Peter's arrival is the latest in a line of significant lateral hires to our Manchester office, which underlines our commitment to establish the firm as a legal powerhouse in the North West."
Richard Cox, corporate partner, said: "Peter has an exceptional reputation in his field, both in the North West and across the UK. He's an expert in advising local businesses on complex cross-border tie-ups and major projects overseas, so we are especially pleased to welcome him to the team."
Peter Allen said: "This is a really exciting opportunity to join a firm that has one of the country's most active corporate transaction teams across its network of offices.
"It is a great opportunity for Ryan and I to establish a premier North West-based transactional practice, leveraging off an established national transactional platform and supported by brilliant fellow lawyers across the country and throughout our international network."
::
Facilities management company The Westgrove Group has appointed its first site-based mental health first-aider.
The fast-growing soft services provider, based in Warrington, is working with one of its key partners, Market Place Shopping Centre in Bolton, to champion awareness of mental health.
As part of the service to shoppers the centre was keen to ensure that they identified a mental health first-aider, something which is being called for by many companies in the UK to be mandatory as part of the 'Time to Change' campaign.
Following a very successful mental health awareness week in 2018, Changing Minds, the centre and Westgrove worked together to train more than 80 staff in mental health awareness.
After the training a member of the team, Paul Ogden, one of the centre's guest service ambassadors, took on the role as mental health champion.
Paul is now available to offer support and advice to vulnerable customers visiting the centre, as well as to the centre's tenants.
Nikki Wilson-Cook, centre manager of Market Place, said: "With mental health in the workplace being such a burning issue nationally, we are proud to be setting an industry precedent with the introduction of our first mental health first-aider at Market Place.
"Paul Ogden is equipped with all the skills required to help someone, be it a colleague or a member of the public, suffering mental distress, which is all too common an occurrence today."
The Westgrove Group, based in Warrington, specialises in providing security, cleaning and security services in high footfall destinations from shopping centres and corporate businesses to retail environments.
Claire McKinley Smith, managing director of The Westgrove Group, said: "As a company, we take mental health extremely seriously so we are very proud to be one of the first facilities management companies in the UK to appoint a mental health first-aider.
"We are fully on board with the 'Time to Change' campaign, supported by many UK businesses, to take mental health more seriously in the work place as we believe that mental health needs to be given the same weight as physical first aid.
"We will be looking to appoint mental health first aiders at many more centres across our UK portfolio during 2019."
::
Global media consultancy K7 Media has expanded its senior team with the appointment of Girts Licis as head of strategy.
The new role will see Licis responsible for providing strategic business analysis to K7 Media's roster of international clients and oversee the businesses' ongoing evolution from suppliers of information, to providers of insight.
A highly-respected industry professional, Licis has enjoyed a widely-varied career within the TV industry, working across development, production and acquisitions of scripted and unscripted programming.
Starting his career in Latvian TV, Licis later established and ran his own production company, specialising in exec producing local versions of international formats.
He also presented the Latvian version of 'Who Wants to be a Millionaire?' from 2007-2008.
Prior to joining the team at K7 Media, Licis was head of CEE Content Development and Formats at Modern Times Group.
Licis said: "K7 Media are known throughout the industry for providing invaluable media intelligence. I'm happy to be joining this fantastic team and thrilled to be taking up this role at such an exciting time, not only for the company, but also for the whole industry."
Keri Lewis-Brown, Founder and CEO of K7 Media, said: "Girts is a fantastic new addition to our team, his creative thinking and breadth of industry knowledge is invaluable."
K7 Media offers bespoke research and media consulting services to broadcasters, streaming platforms, distributors and production companies across the world. It continues to expand its current range of client services while maintaining the delivery of its indispensable media reports.
::
North West Mediation Solutions is strengthening its panel of mediators with the appointment of Phil Hesketh and Lindsey Bell.
Phil trained with ADR in 2006 before becoming a full-time mediator in 2008.
He specialises in contentious probate disputes, ranging from TOLATA claims to contested wills.
Following qualification with ADR as a commercial mediator in 2009, Lindsey set up her own employment law consultancy firm, Peach Law. With more than 15 years of employment law experience, Lindsey will be focusing on workplace mediation.
Victoria Greenwood, North West Mediation Solutions managing director, said: "We are delighted to welcome Phil and Lindsey to NWMS.
"Phil has a fantastic reputation as an experienced mediator and will strengthen our presence in the contentious probate market, and Lindsey's expertise in the employment law field will give NWMS the credibility to stand out as a leader in workplace mediation."
NWMS is based in Kettleshulme, Cheshire.
::
Public Sector Plc has announced that Paul Brown, northern region director, has been promoted to the role of board director with his remit expanded to include responsibilities across the group.
Based from the Manchester office, Paul joined Public Sector Plc in 2015 from Bolton Council as the lead for six of the 22 Public Sector Plc partnerships with local authorities.
Over the past 3.5 years, Paul and his team have supported each council partner to progress commercialisation, generate socio-economic benefits, and create value through existing land and property assets.
Outside the group's head office in London, Paul will become the most senior member of the team and will take overall responsibility for 13 of Public Sector Plc LLPs across the North and Midlands, ranging from Gateshead to Dudley, Wyre Forest to Rushcliffe, along with the teams based in Manchester and Birmingham.
In his role, he will also be responsible for creating and supporting new council partnerships.
Chief executive Adam Cunnington said: "At a time when local authority budgets have been cut, the Public Sector Plc team passionately believes that we can help more local authorities unlock much-needed value from their property assets.
"We are excited about welcoming Paul to the board.
"The key to Public Sector Plc's success is our people and we pride ourselves on growing and nurturing the best talent internally. Paul is an exceptional member of the team who has consistently delivered excellence, both in terms of his work and in his contribution to shaping the culture of the business."